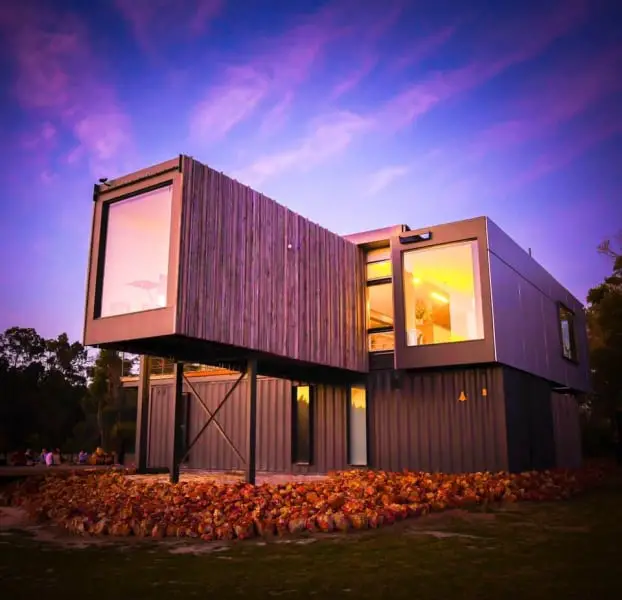 Shipping containers are an innovative way to create a living space on a budget and in recent years, their popularity has grown greatly. Is it any wonder – with the cost of the average home in Australia being $660,800 [1] – people must look for cheaper alternatives?
Shipping container homes Australia prices
The average price of a 20ft used shipping container is around $4000-5000AUD and a new container costs around $11,500 [2]. Transportation costs vary depending on location, however once the container is on your land, what you do with the container, how fancy you make it and how much you spend on it is up to you.
From those looking for a container home to live in permanently to those who want an office space in their garden or a holiday rental – container homes offer great flexibility. You can stack them together or use them individually. Container Homes offer a reasonably cheap and easy way to construct a home as the main structure is already there. The structure may need reinforcing if the container is going to be chopped about a lot and an Engineer will need to sign off on any alterations.
Shipping container homes Australia regulations
It is worth noting that in most States & Regions in Australia, the usual council approvals are required as that of any new dwelling, but container homes are worth considering as an alternative to traditional construction methods. Container homes can be space saving so if your land size is small and you need a compact building, a container home is a great way to provide compact living.
Container home builders Australia
If you are thinking about building a container home in Australia, it can be quite daunting even knowing where to start. I suggest contacting a builder or architect who can help you to work out exactly what your requirements are and the next steps of the process. The following builders and architects are a good place to start:
Eco container homes Australia
For those among you who are sustainability conscious, used container homes can provide a sustainable way to construct a home. With over 5 million containers coming in and out of Australia every year [3], re-purposing a used container can be an environmentally friendly way to construct a home. Instead of using traditional construction materials where over 20 million tons of construction industry waste is produced each year [4], why not re-purpose an old shipping container destined for life rusting in a lot?
Here are my top ten best container homes in Australia:
1. "The Container" Recycled Shipping Container Home – Tasmania, Australia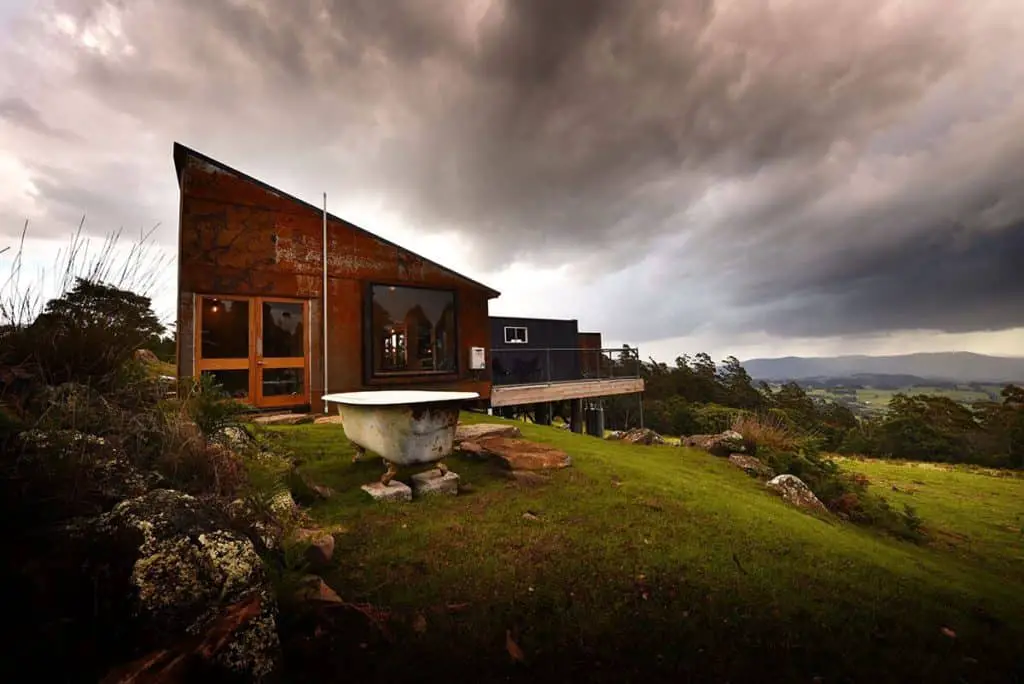 This container home is based in Tasmania and rented out as a holiday home via AirBnB. It was 2016 Finalist in the Tasmanian Tourism Awards and offers one-bedroom with king size bed, outdoor bath tub, wood fire and amazing views. The description states "Recycle and re purpose with creativity and style is the mantra at the container. A recycled shipping container renovated to a luxury standard utilising local eclectic materials."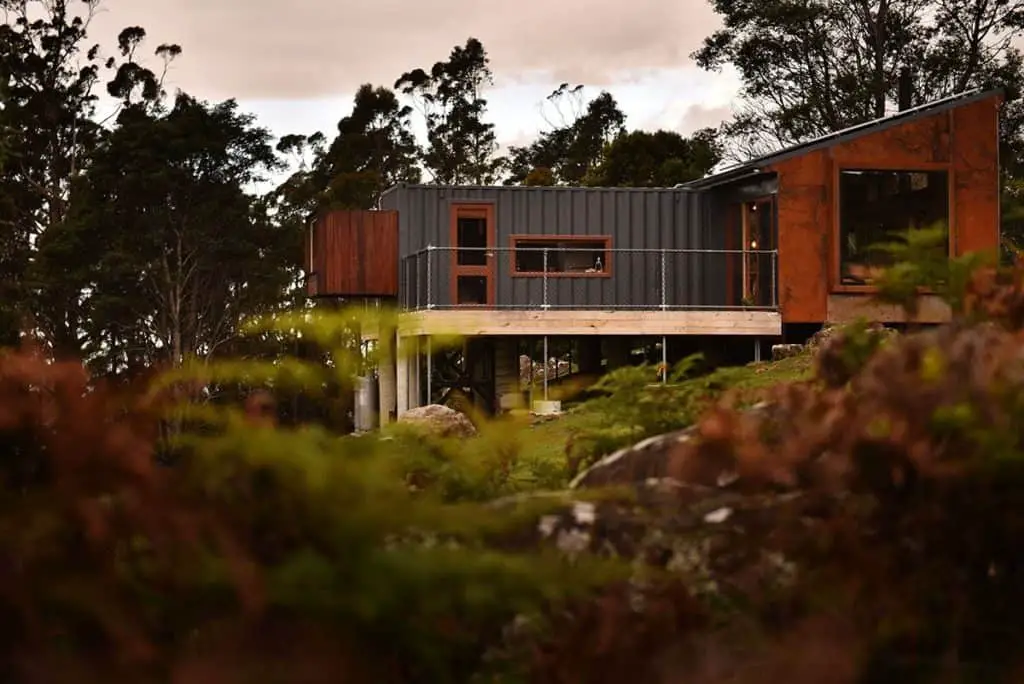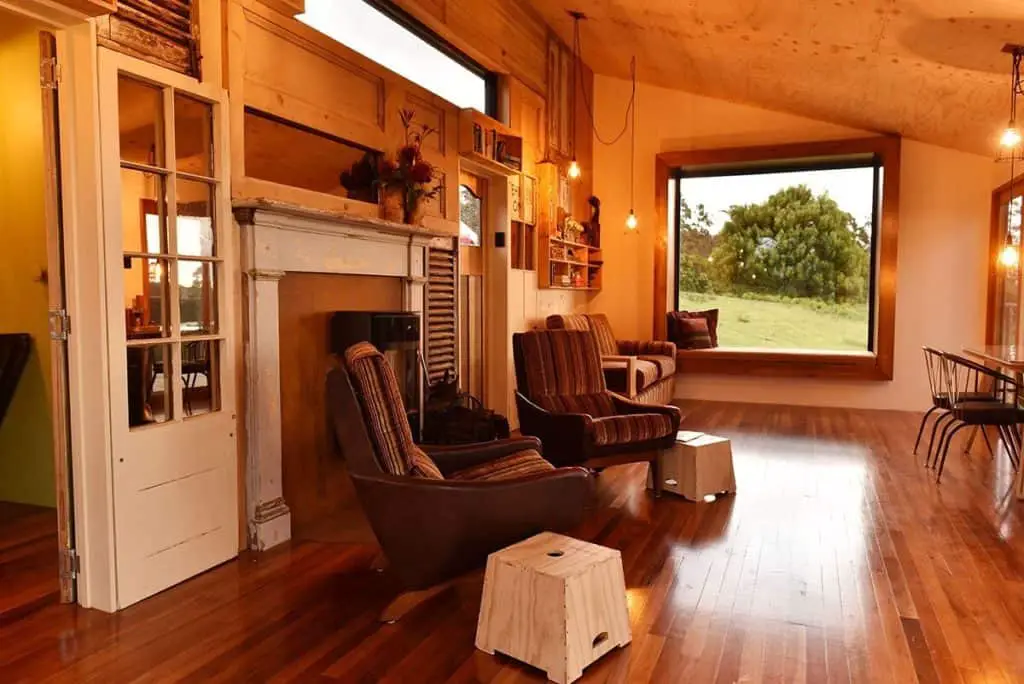 The industrial feel is emphasised with added Corten metal sheeting and leaving some of the internal plumbing exposed. The use of reclaimed materials adds an eclectic charm to this container home and the large glazed picture windows frame the beautiful views. Located on a small holding of 50 acres, "The Container" uses solar and hydro sustainable energy systems.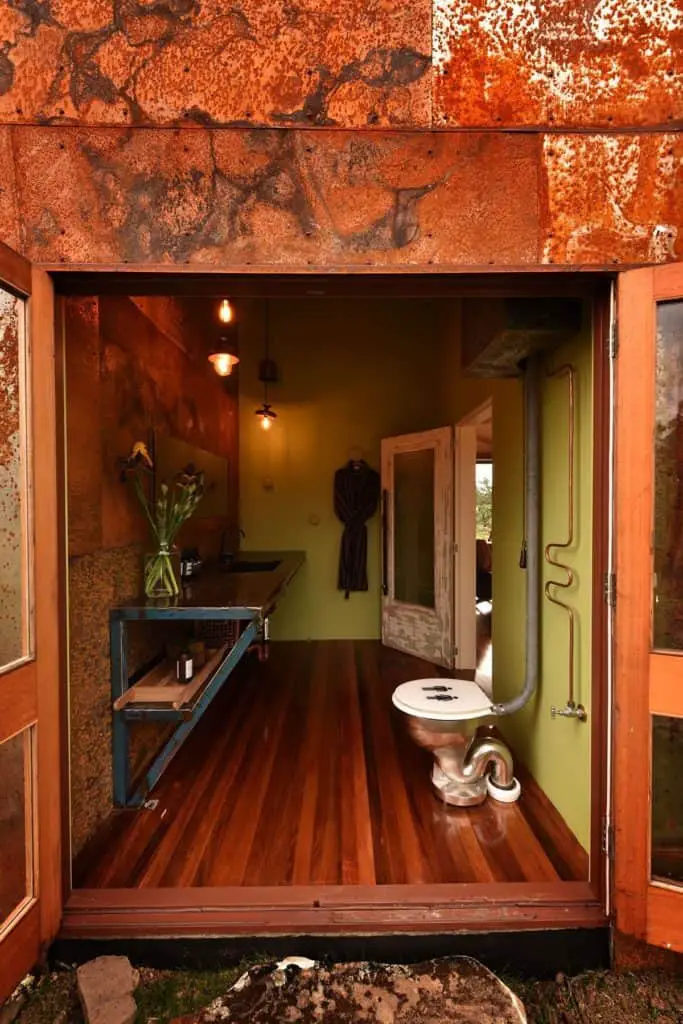 2. Off-grid Container Home – Byron Bay, New South Wales, Australia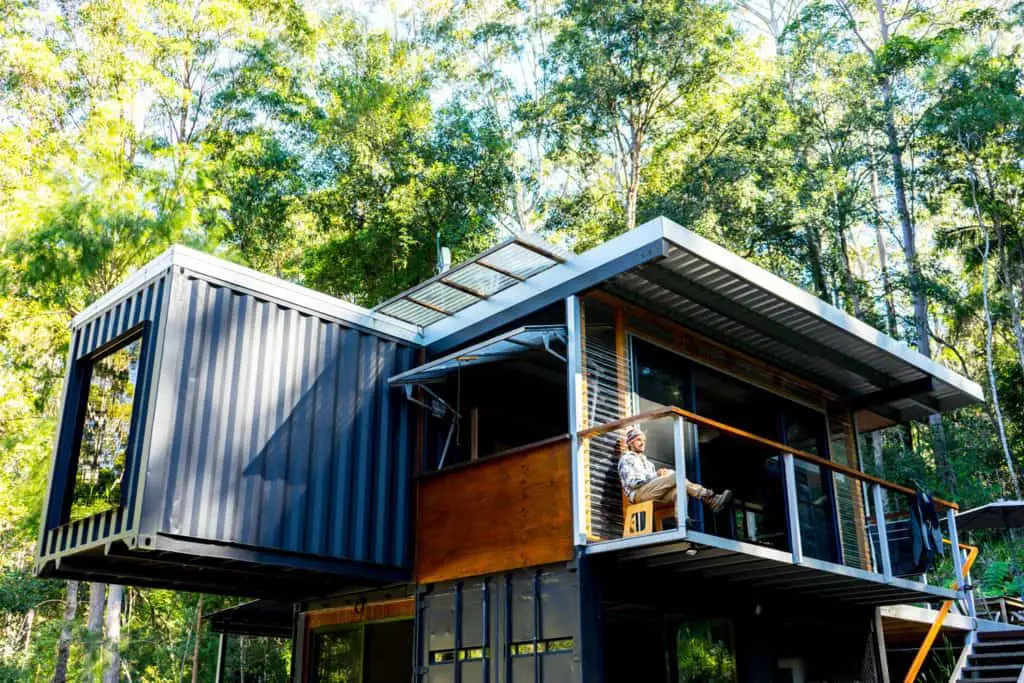 This gorgeous container home is owned by Jamie Smallwood – an architect who focuses on sustainability. Here he lives off-grid in the mountain rainforest area overlooking Byron Bay. He has used recycled and repurposed materials to create a stylish and comfortable home out of 40ft containers including beer keg sauna and hempcrete walls.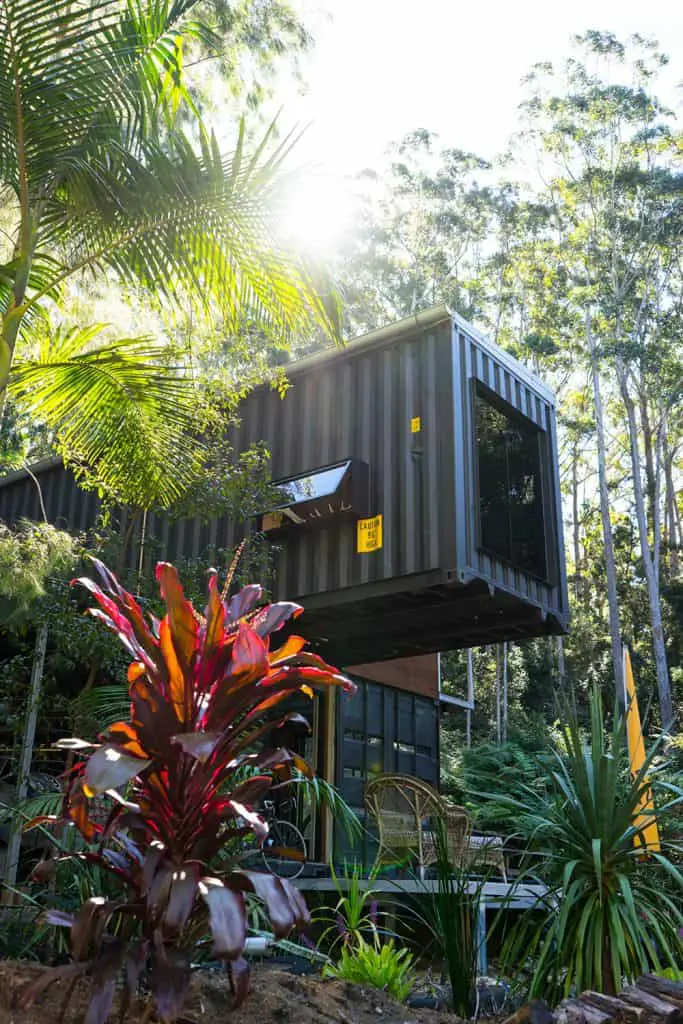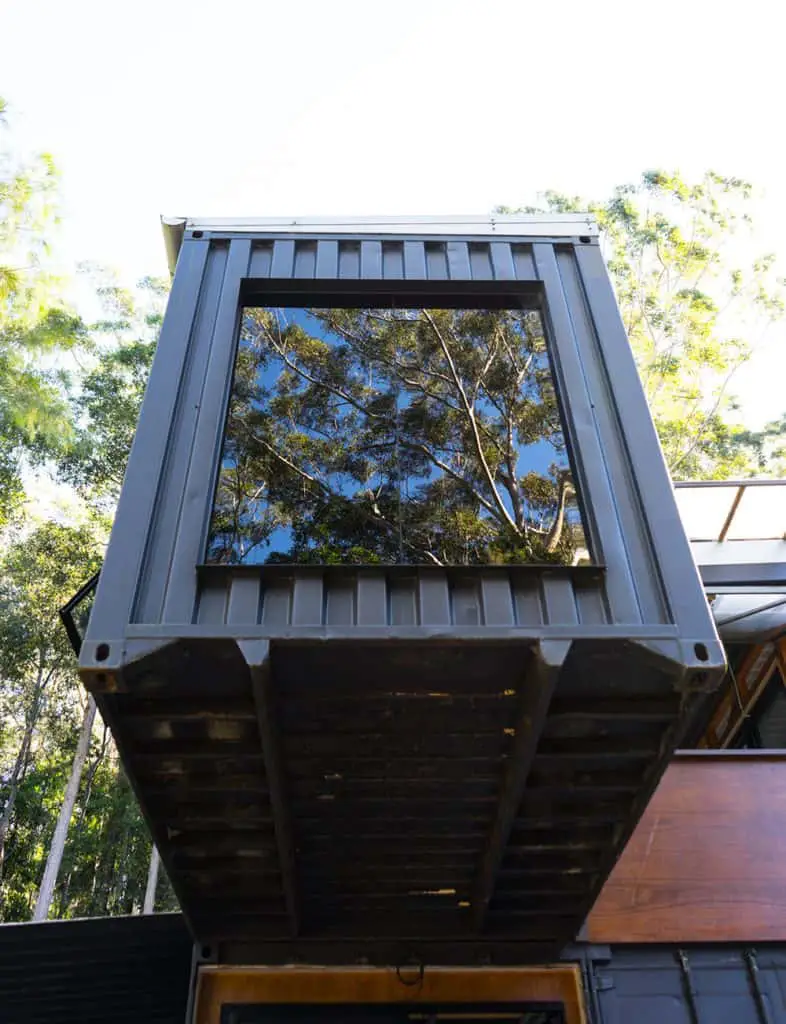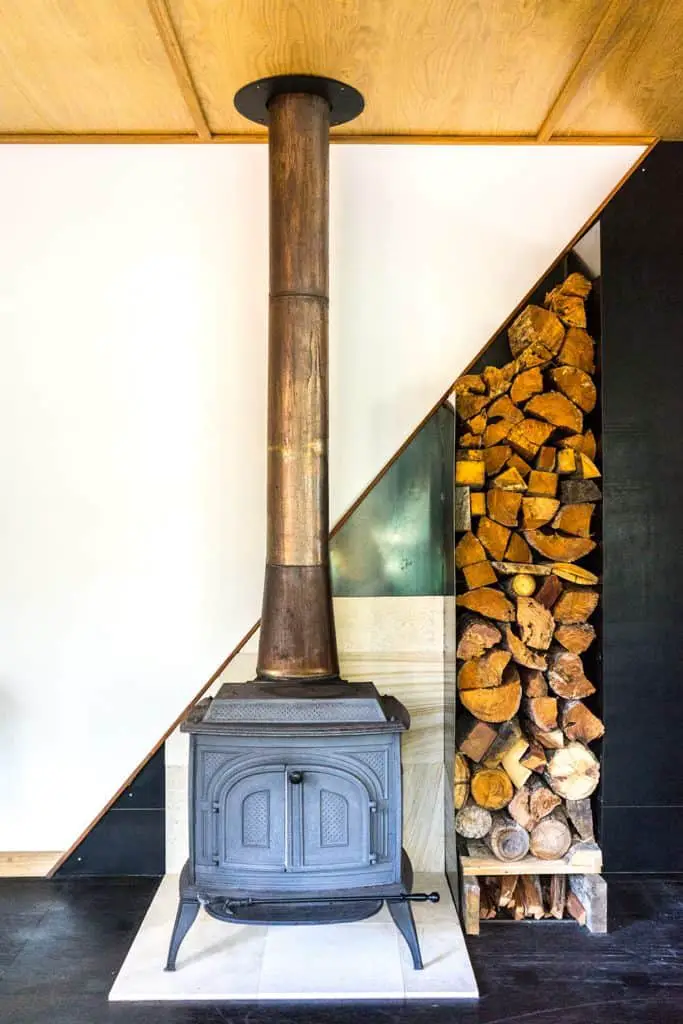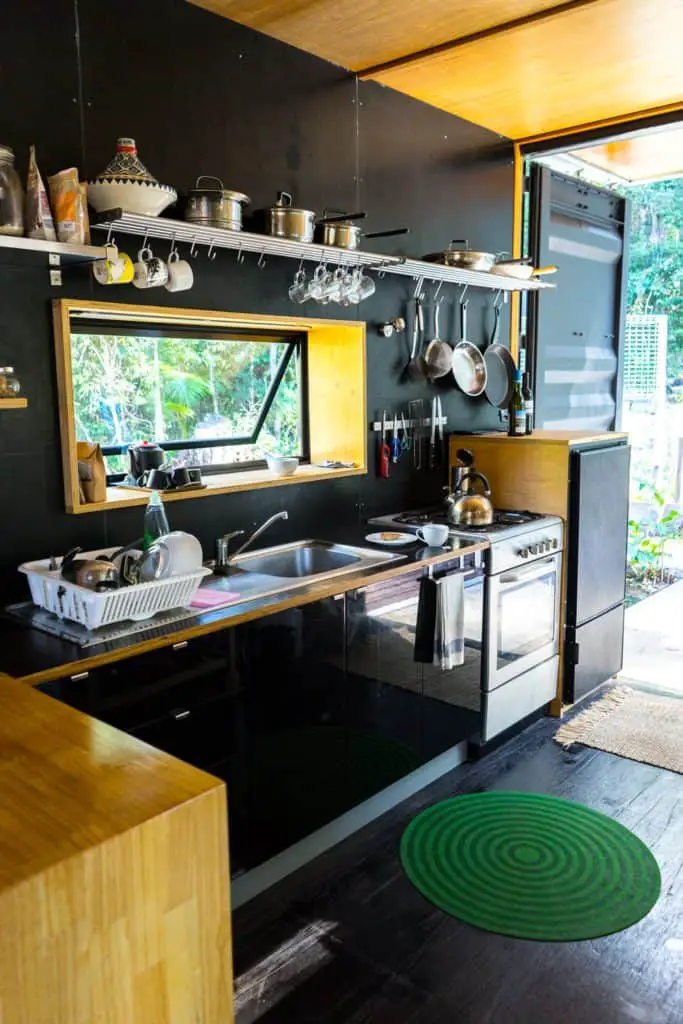 3. Bungwahl Tiny Container Home – Bungwahl, New South Wales, Australia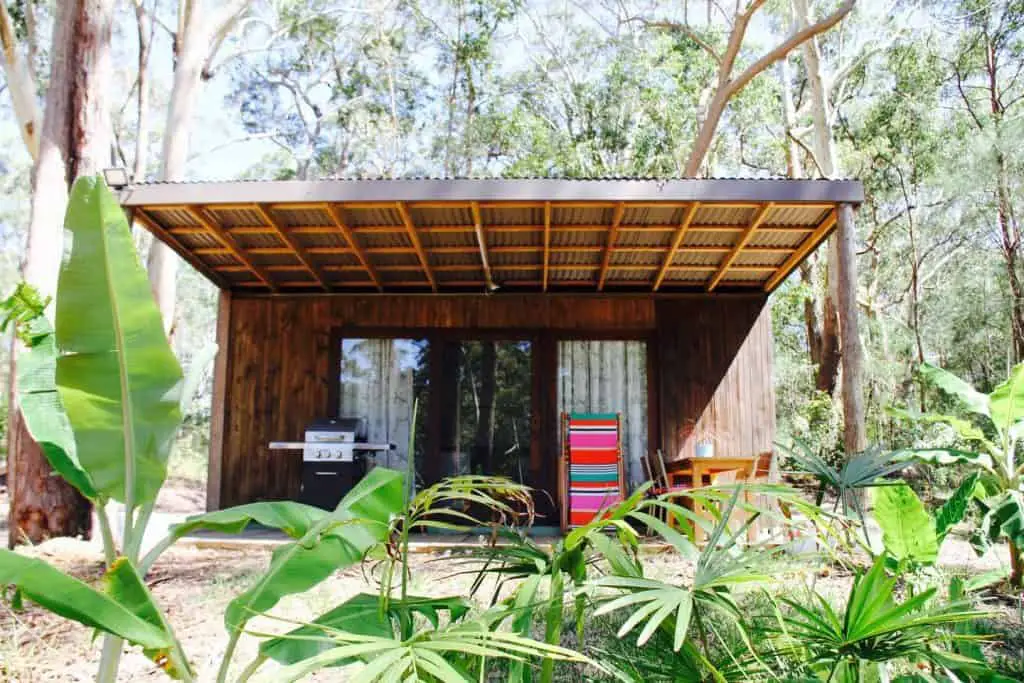 This cozy tiny container home is constructed from one shipping container and is rented out as an AirBnB. It backs on to the forest in Bungwahl, New South Wales. A perfect getaway, this container home sleeps 2/3 people and is fully equipped with kitchen and bathroom. It is not connected to mains water and so uses recycled rainwater. Relax and enjoy the great outdoors with hundreds of miles of forest surrounding the property.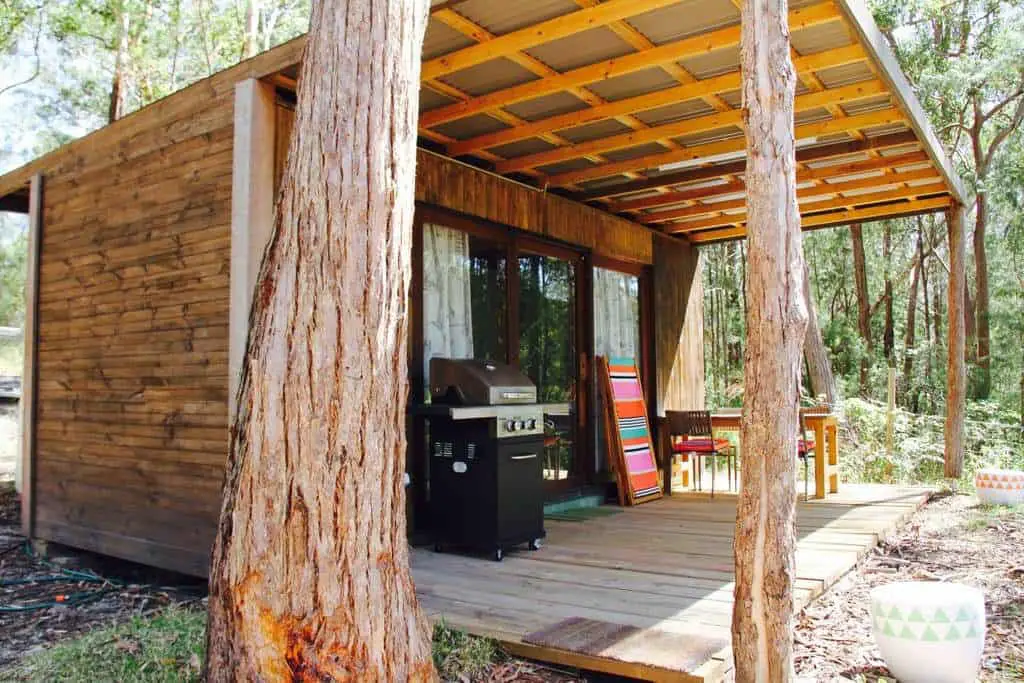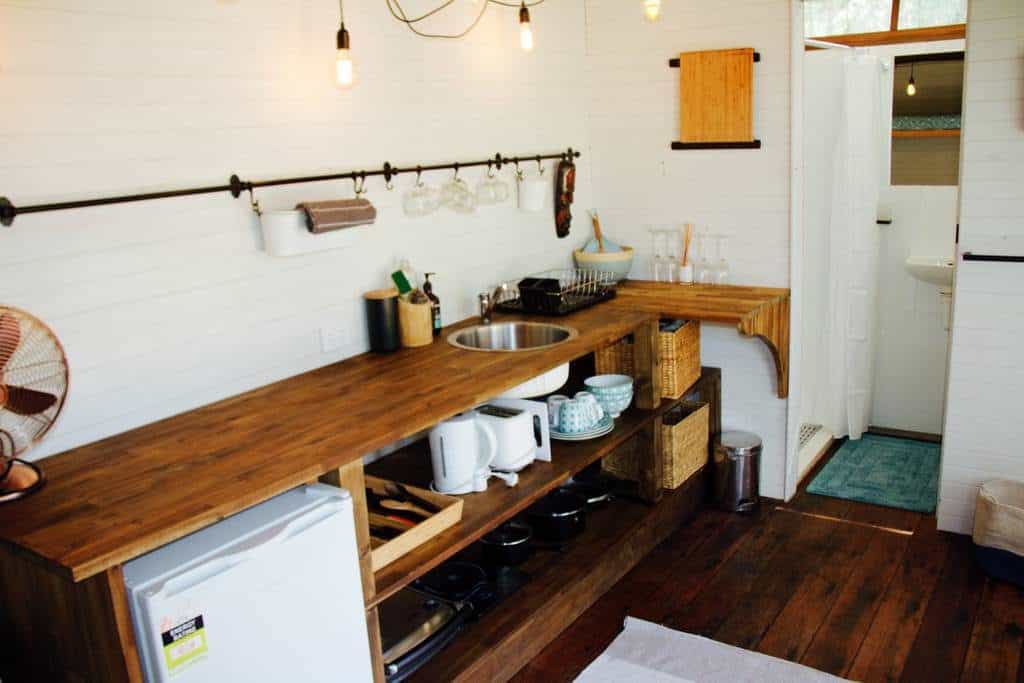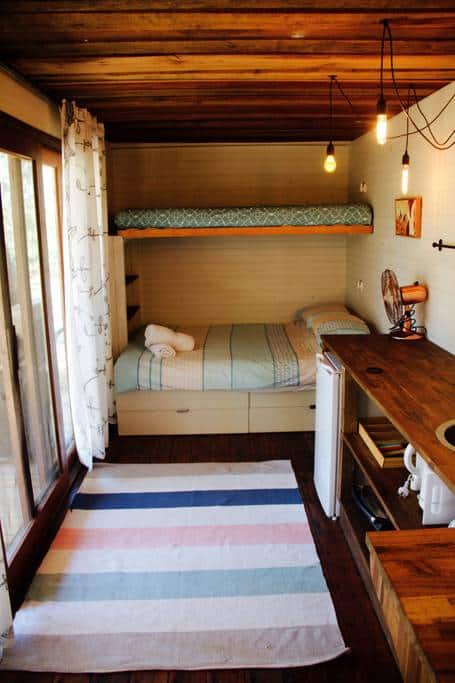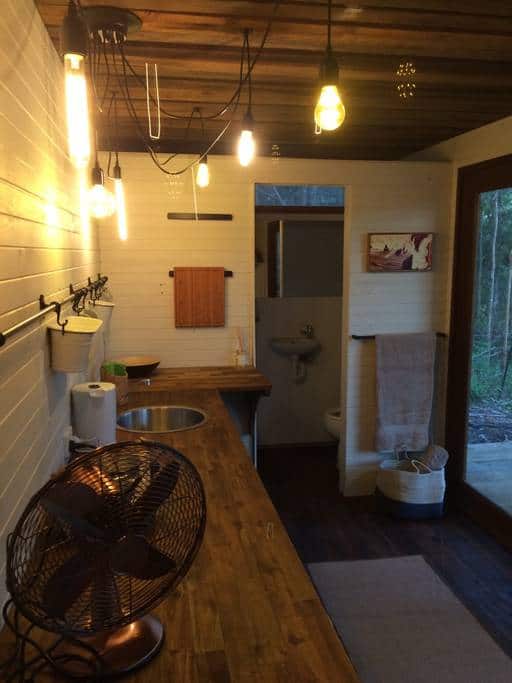 4. South Coast Container House, New South Wales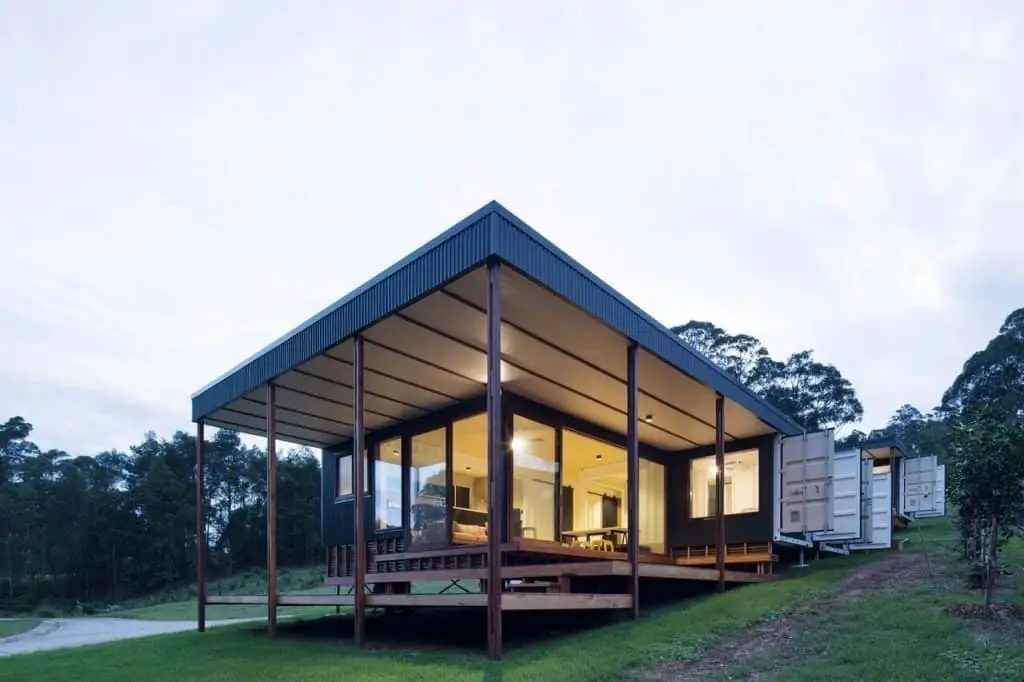 This shipping container house on Australia's south coast was designed by architect Matt Elkan. It is an eco-friendly family home constructed from four re-purposed shipping containers. The containers were laid out on the site in a way to maximise natural light and utilise passive temperature control. There was also no excavation on site which saved costs.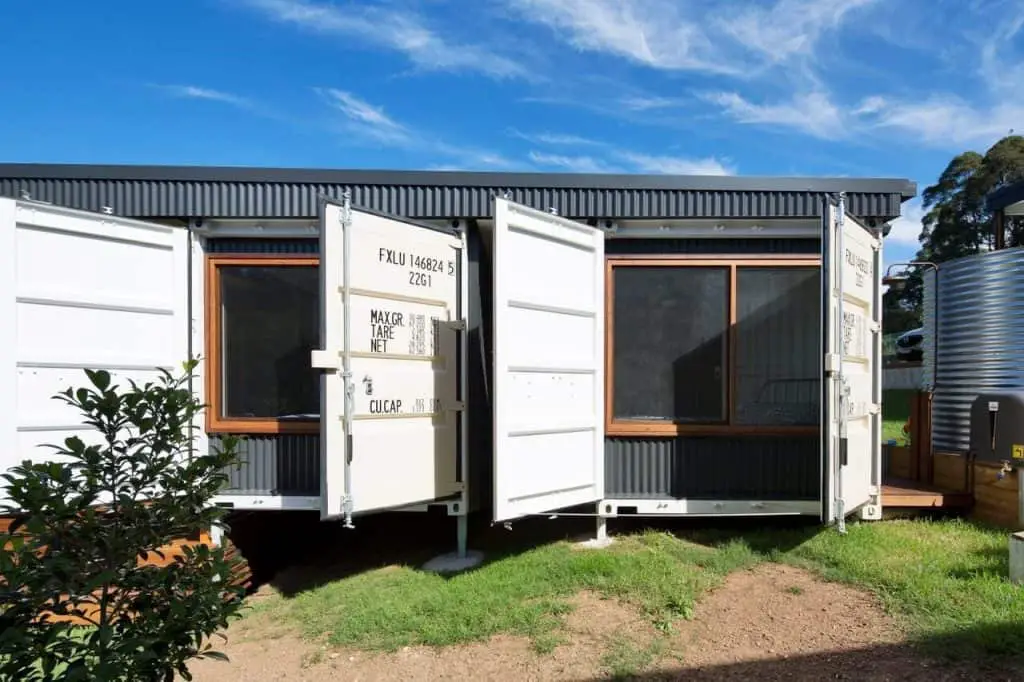 The design does not hide the fact the building is constructed from containers. Instead, this is used as a feature both inside and out with the large container doors being used as 'shutters' with the shipping details left visible – a quirky touch. Inside the metal has been painted in a glossy white and mixed with a few accents walls in blonde wood to bring some warmth.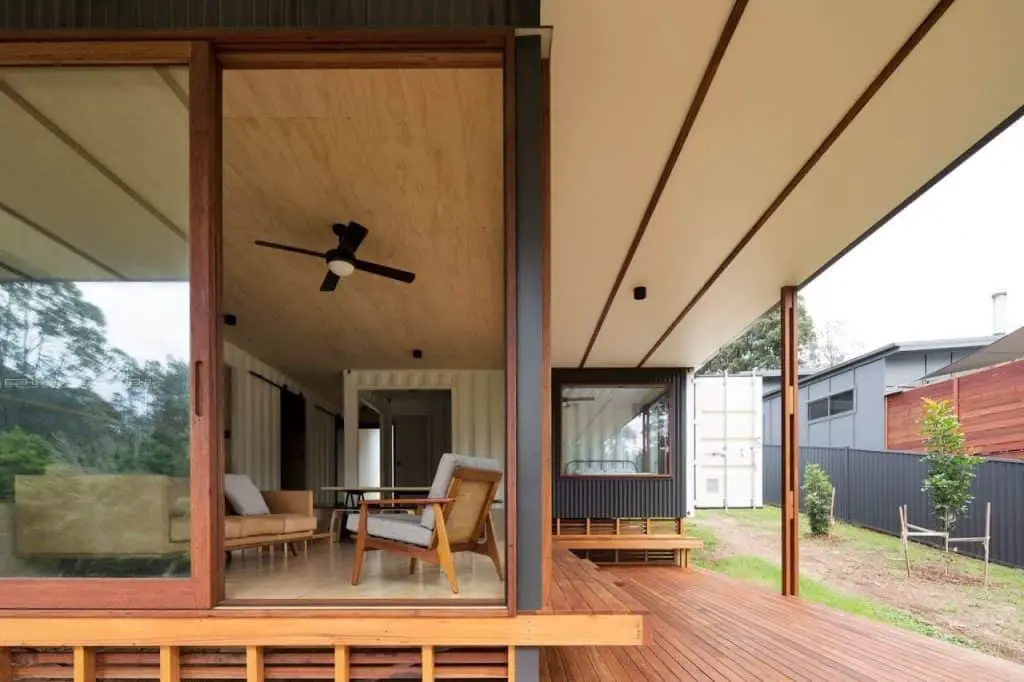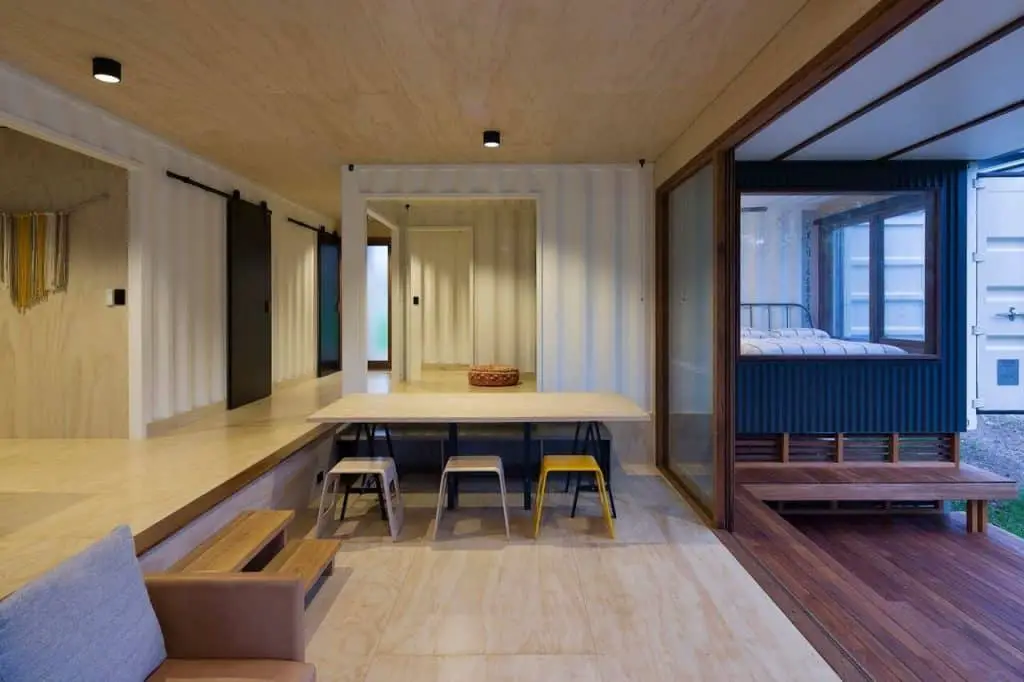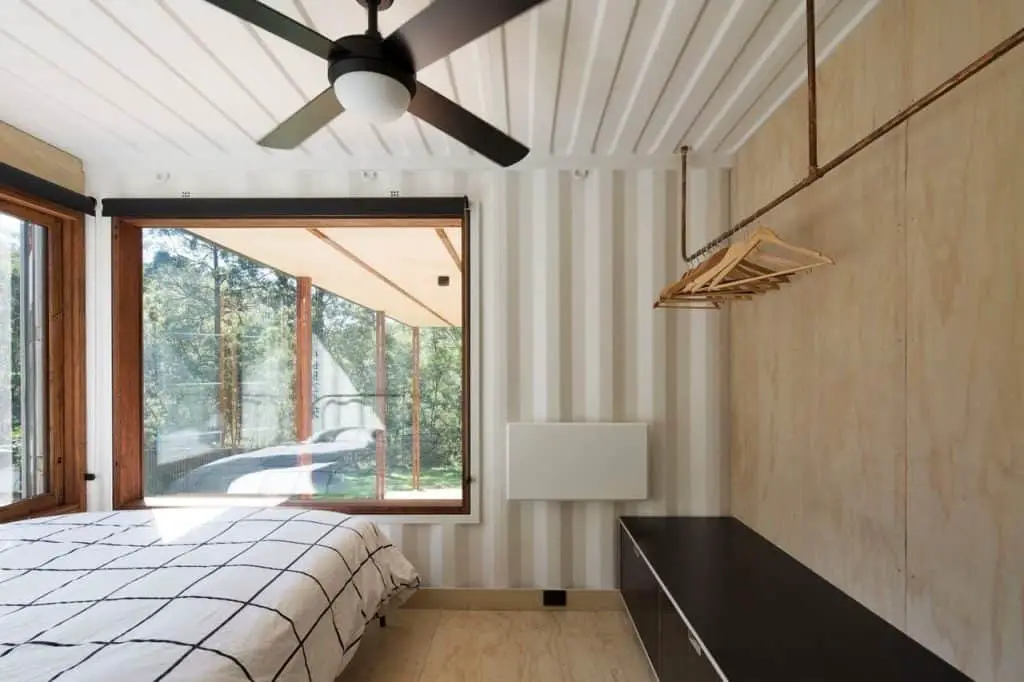 5. House 28, Wye River, Victoria, Australia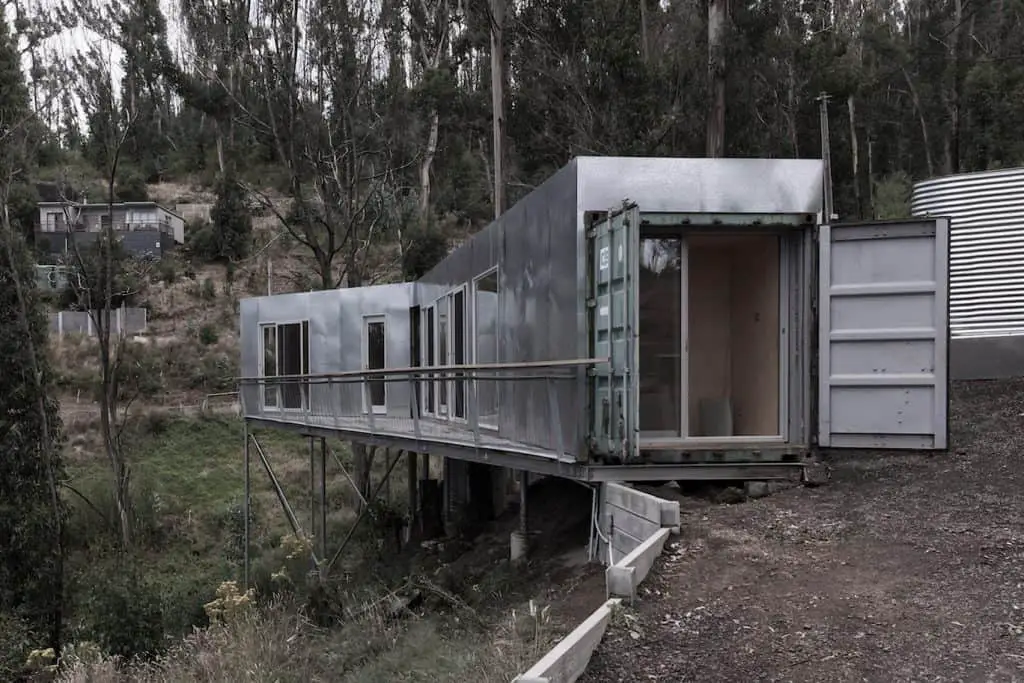 Situated along the Great Ocean Road, this container house designed by Studio Edwards is in Wye River – a popular tourist town during the summer months. Constructed from 3 x 6m long recycled shipping containers from nearby Port Melbourne, this weekend retreat is set on stilts overlooking the Otway Coast.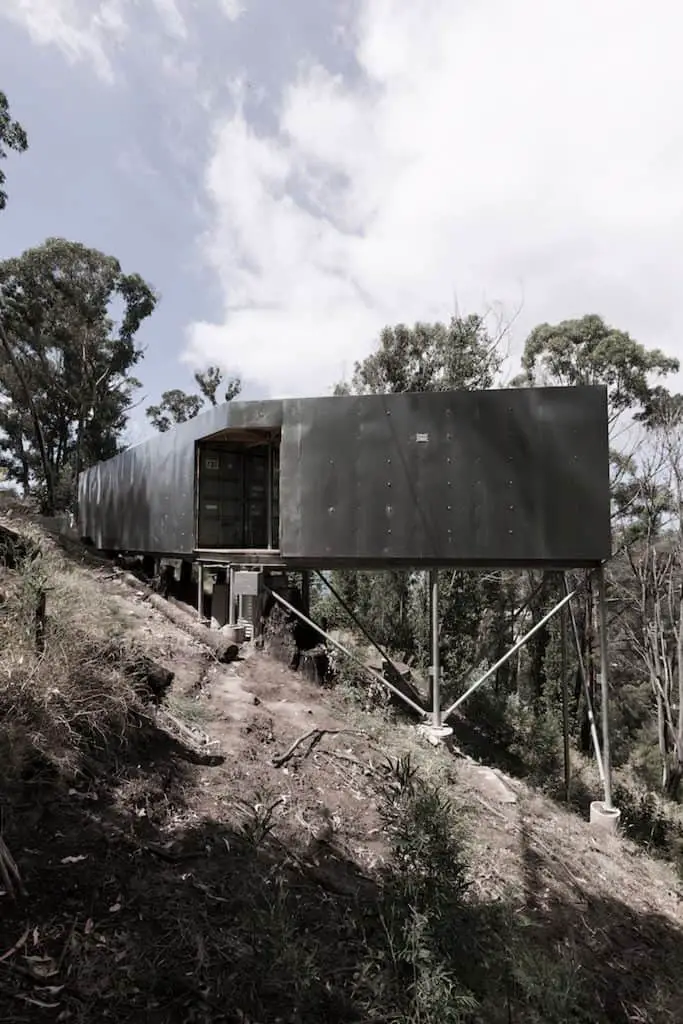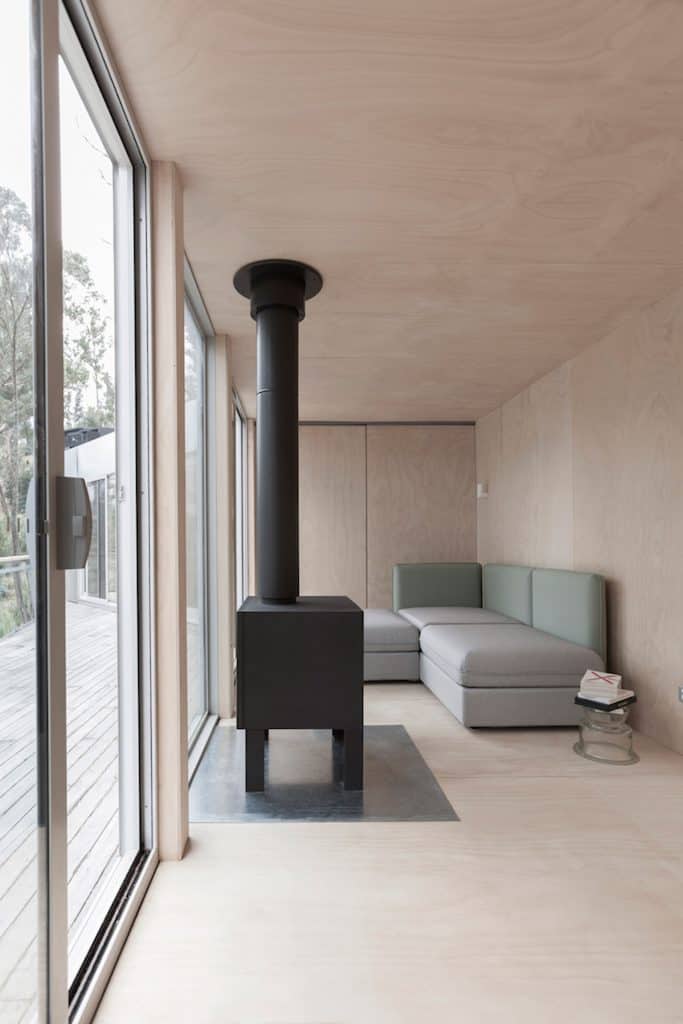 Designed to make minimal impact on the existing trees and vegetation, the container house camouflages itself by having native plants growing on the roof. These plants also provide extra insulation during the winter.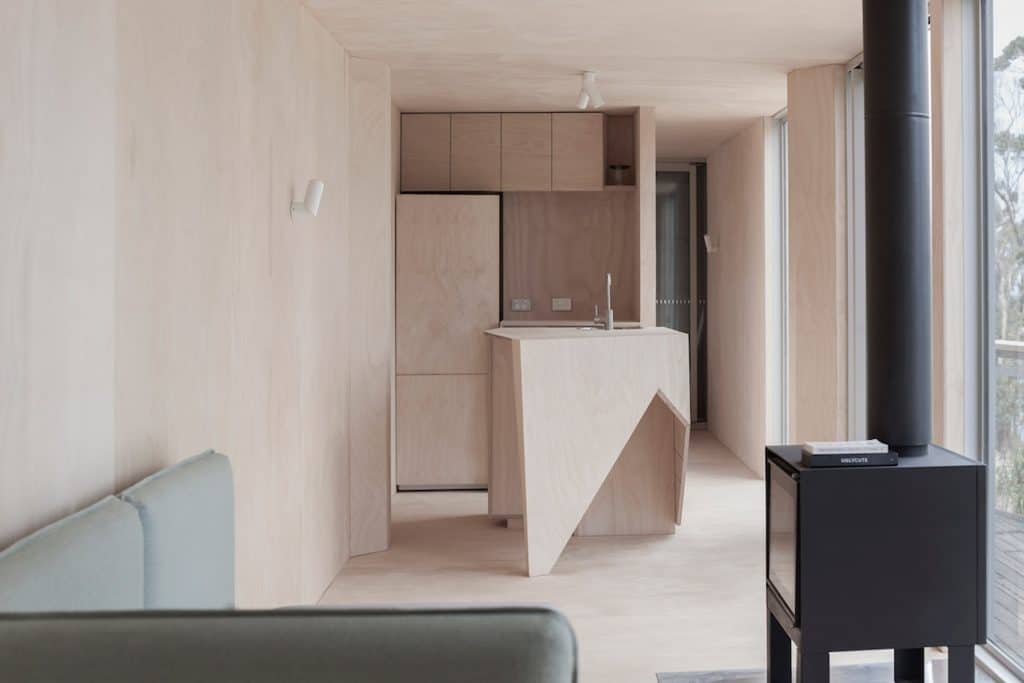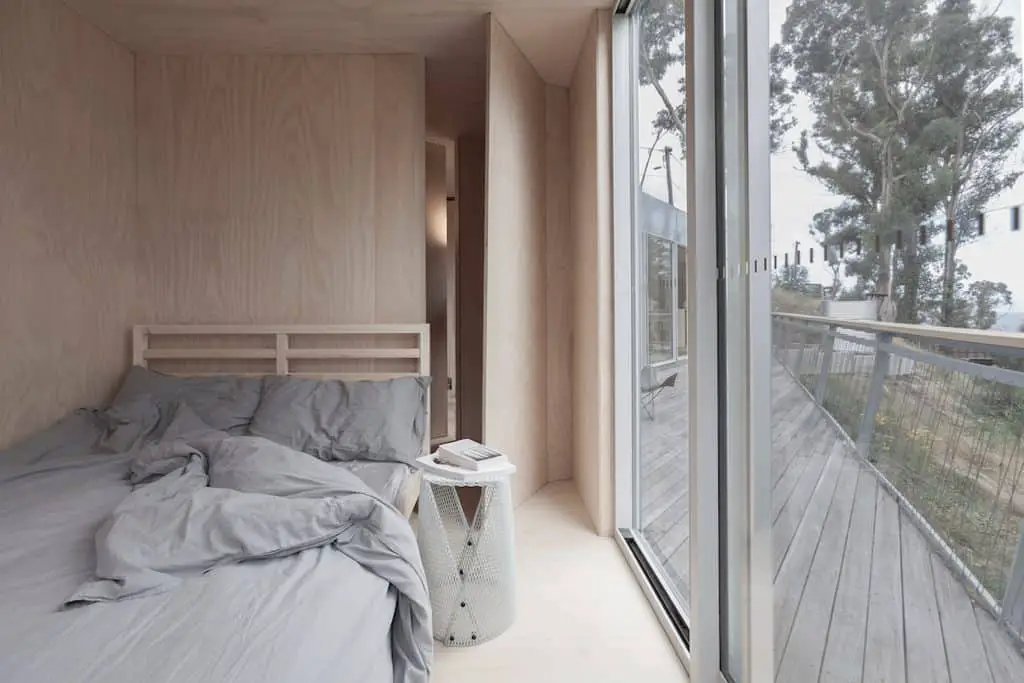 Due to the steeply sloping site, the structure has been elevated on steel stilts embedded in concrete piles. A decked area, large windows and glazed doors on the southern side provide a great vantage point to overlook the coast.
6. Copper House, Coogee, New South Wales, Australia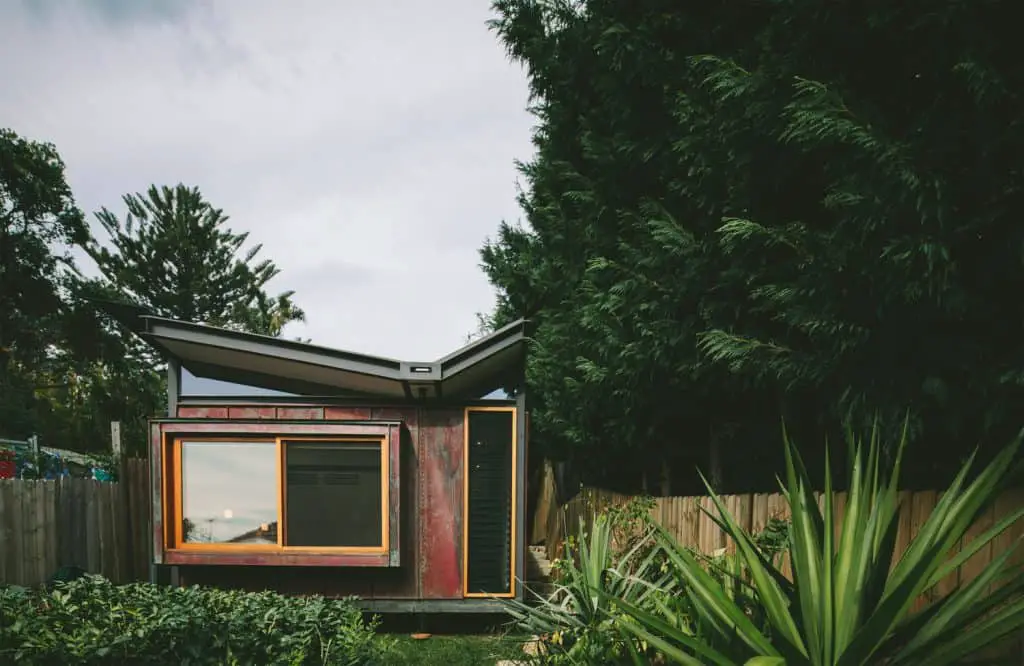 Replacing an old 1890 cottage, this holiday home container house designed by Takt Architects is built on a very tight and steep site. Three sections of the building follow the contour of the slope whilst the butterfly roof provides natural light together with maintaining privacy for the house and its neighbours.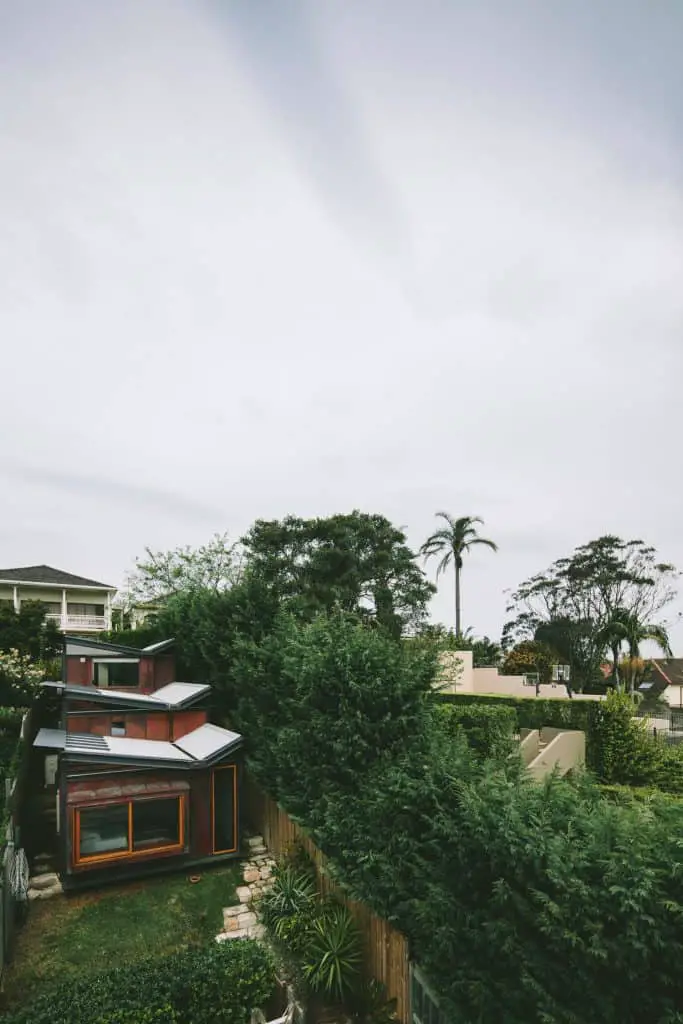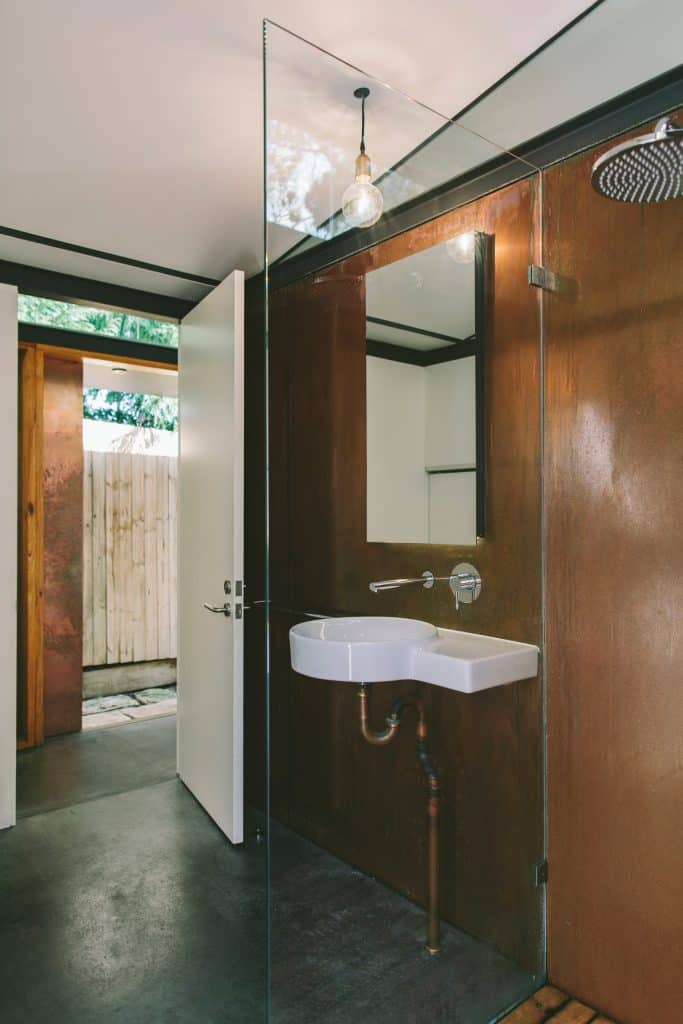 The copper cladding is a response to the beachside location and the salty and humid air will age the copper giving it a patina which will change the aesthetic over time.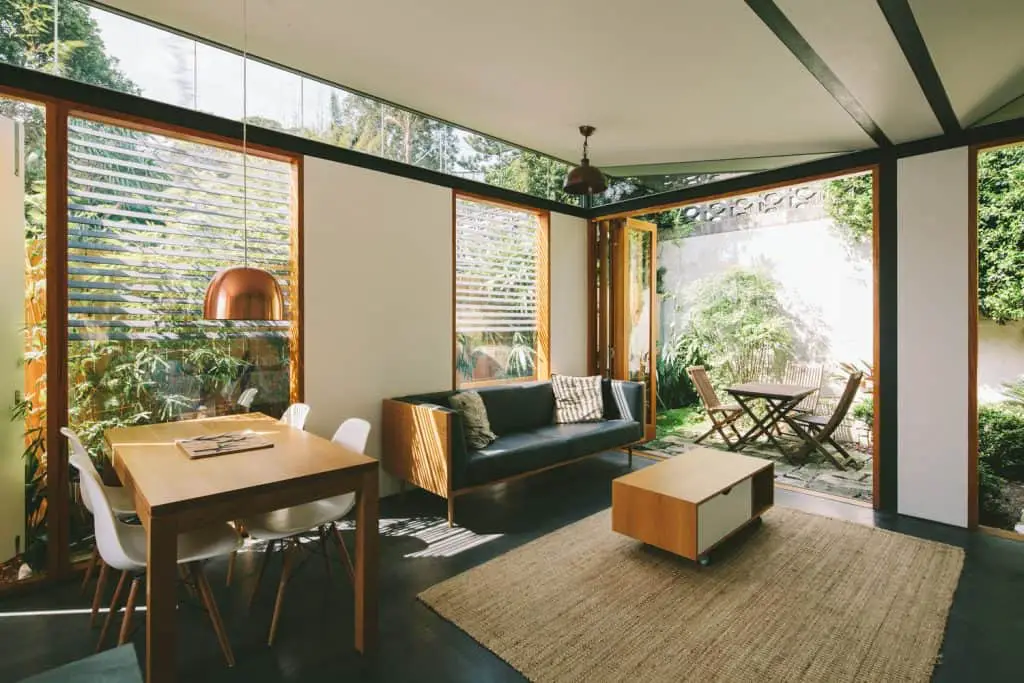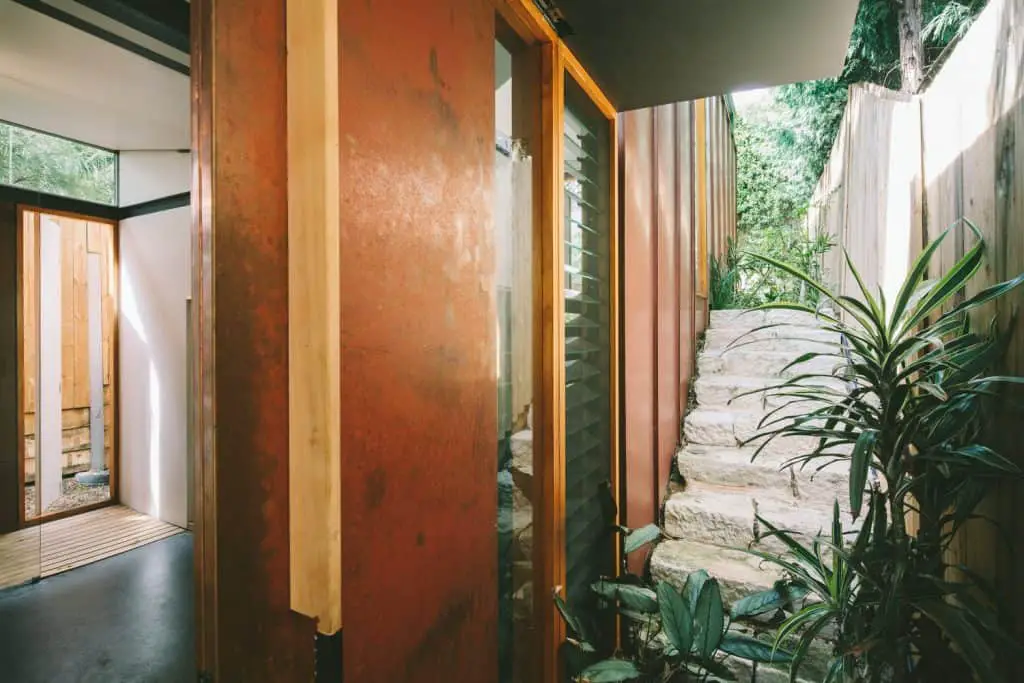 7. Cronulla Two-storey Container Home, Sydney, Australia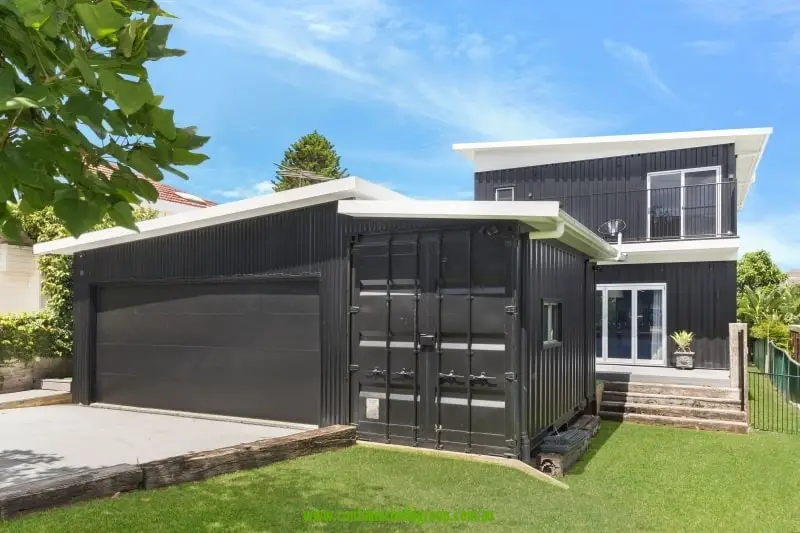 It took 8 x 20ft and 3 x 40ft containers to create this two-storey container home by Container Build Group in Sydney. It includes three bedrooms, four bathrooms, an office and garage. This luxury home features large concertina doors which open the home up to the beautiful surroundings.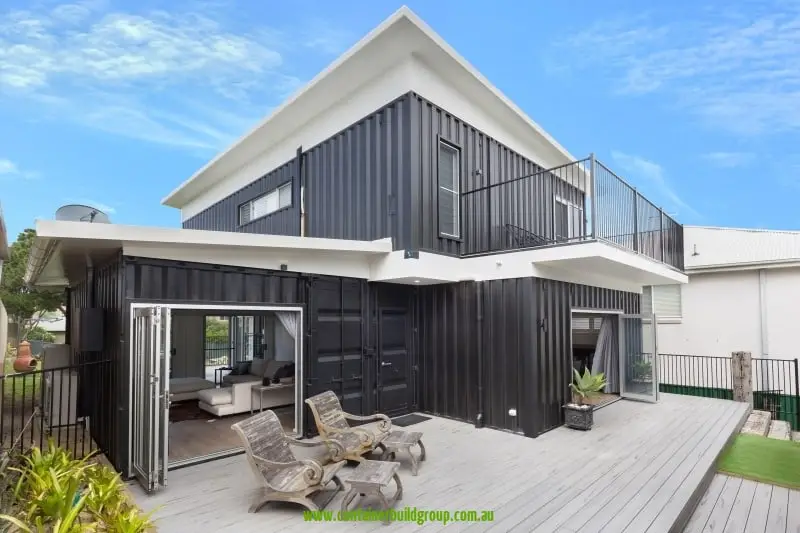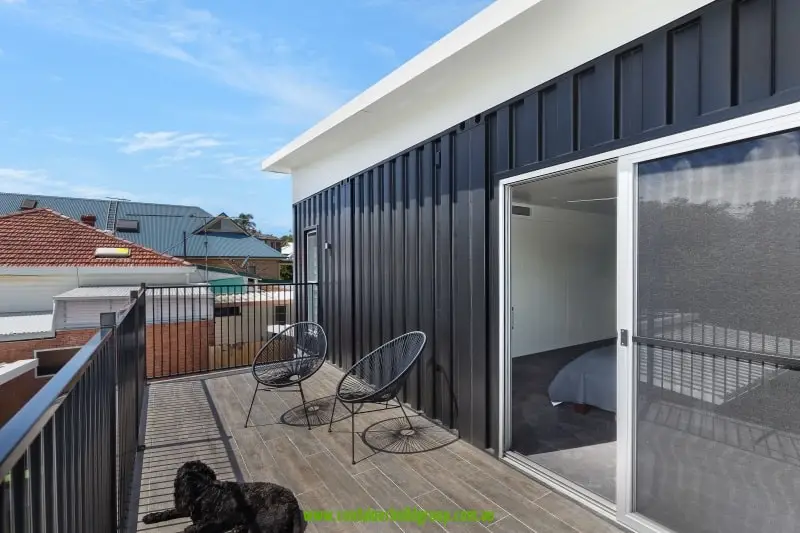 The containers were fully completed off-site in a factory and then installed on site. The total on-site construction time including landscaping was only six weeks! Prefabrication is a great benefit of construction using shipping containers.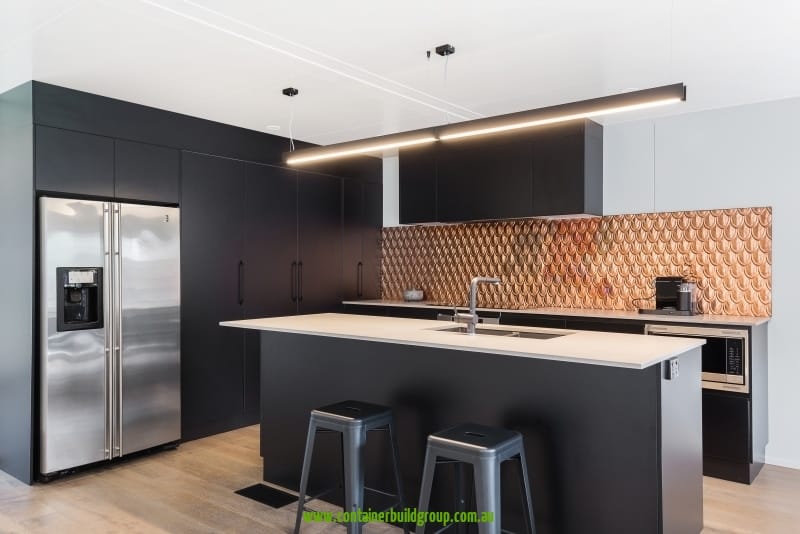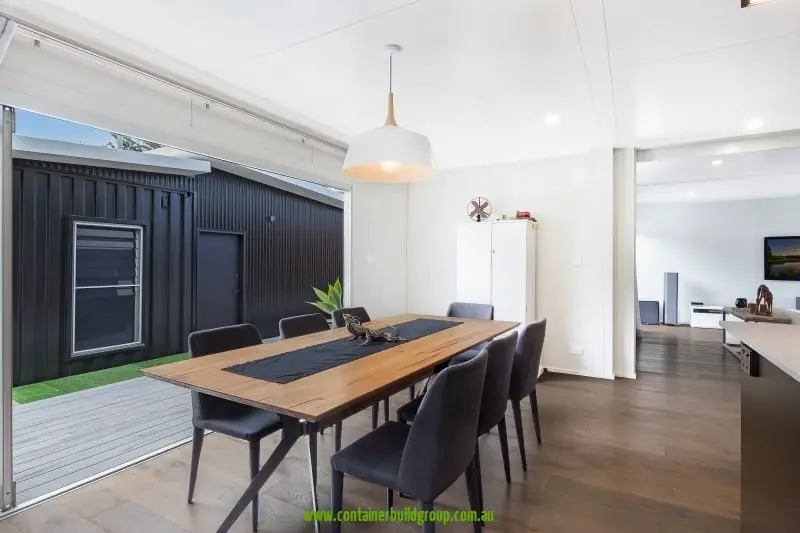 8. 20ft Container Home, Byron Bay, NSW, Australia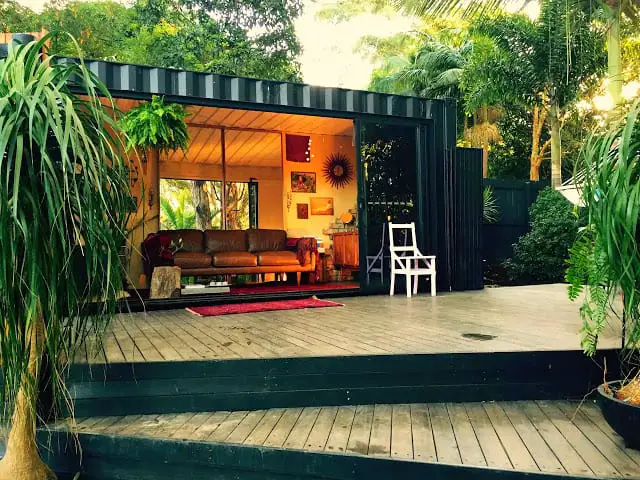 This small and cosy shipping container house is made from only 1 x 20ft shipping container. This holiday rental may be small, but this container home packs in everything you need for a relaxing getaway and is located amongst tropical rainforest between Byron Bay and Suffolk Park, NSW.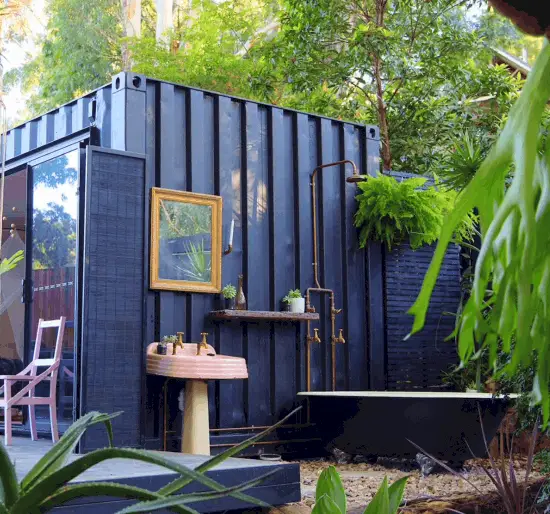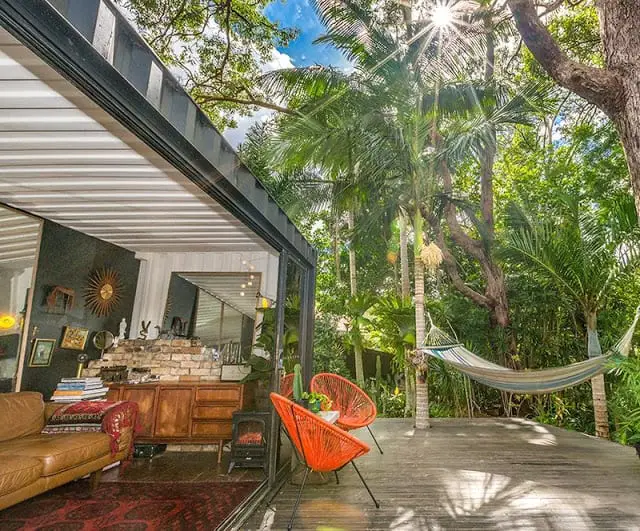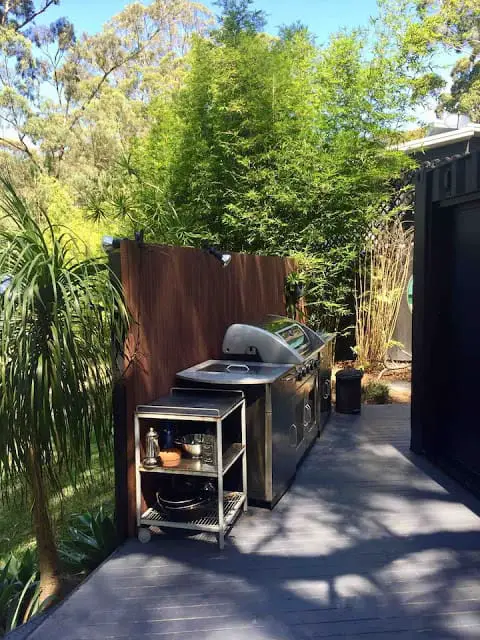 Inside the container there is a bed and lounge area with large glazed doors on one side opening out to a decked area. The large deck maximises the space making the inside seem larger and features a BBQ, hammock, seating area and outdoor bathtub for those relaxing evenings. There is even a dunny squeezed round the back.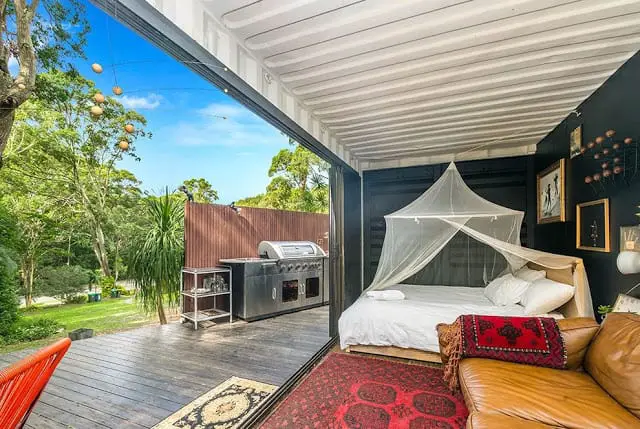 9. Kaloorup Shipping Container House, Kaloorup, WA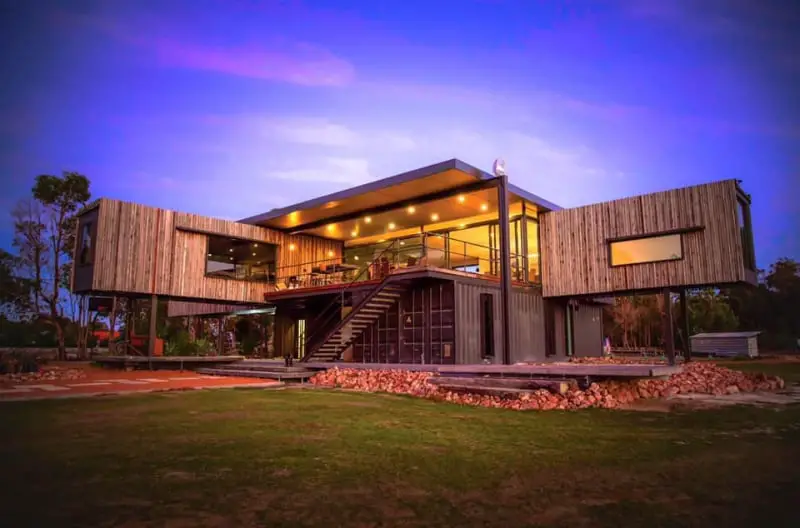 Constructed from 9 x 40ft containers this two-storey container home is situated in the Margaret River region of Western Australia. Inspired by the Devil's Corner Winery Cellar Door in Tasmania, the owner Steve Hick built this holiday rental in just two years on his semi-rural land in Kaloorup, WA.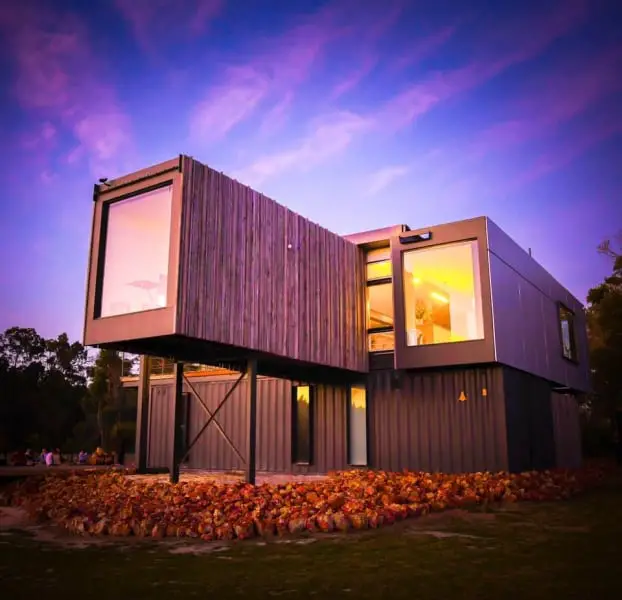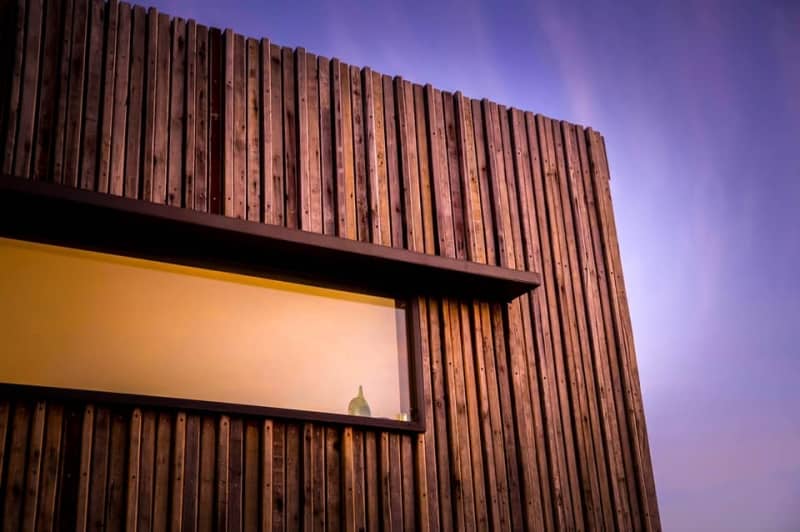 Steve used a large amount of recycled and re-purposed materials, sourcing items from 'verge clean ups' and land fill. For example, the jarrah cladding was salvage from nearby demolition properties and the aluminium sheeting was saved from landfill. To achieve the 6-star energy rating for new builds, Steve used recycled double glazed glass panels and quality insulation.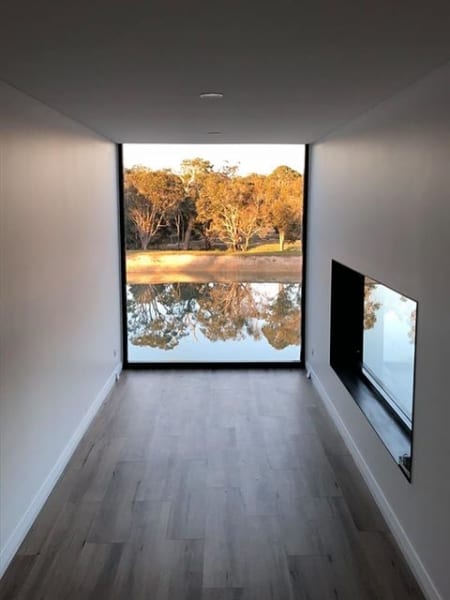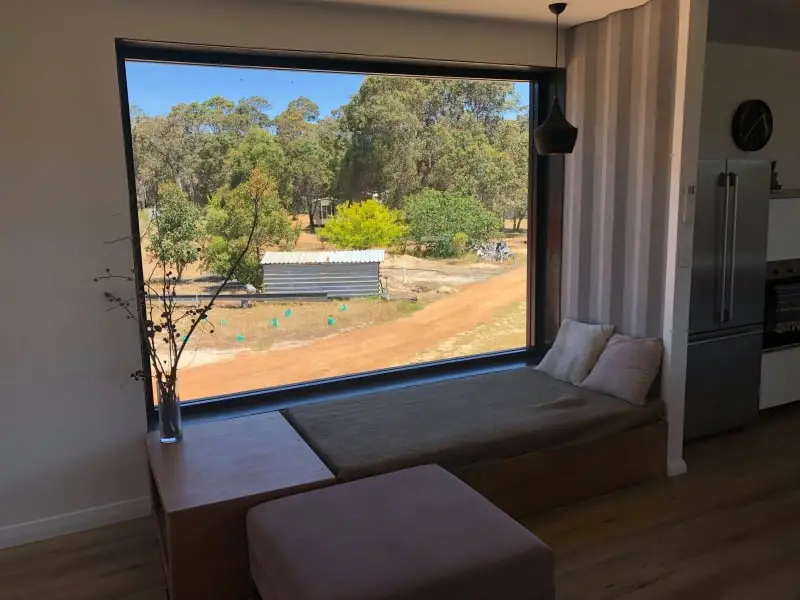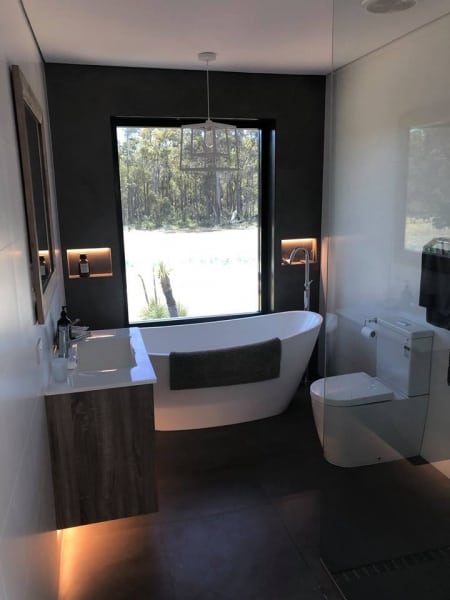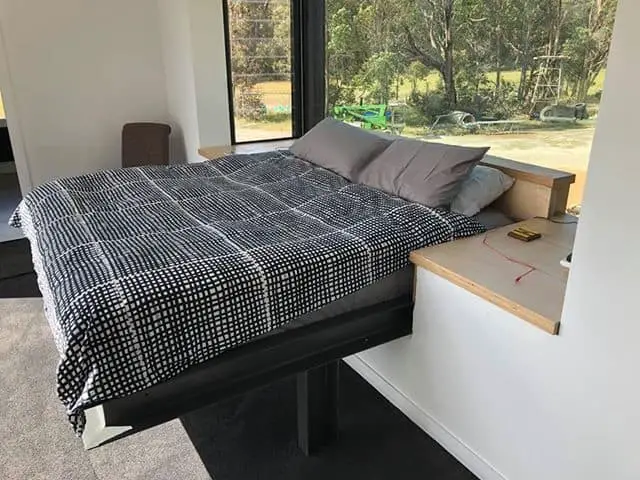 Swapping the container doors for large picture windows frame the beautiful views around the property. A large deck area also extends the living space by providing an additional dining and living area.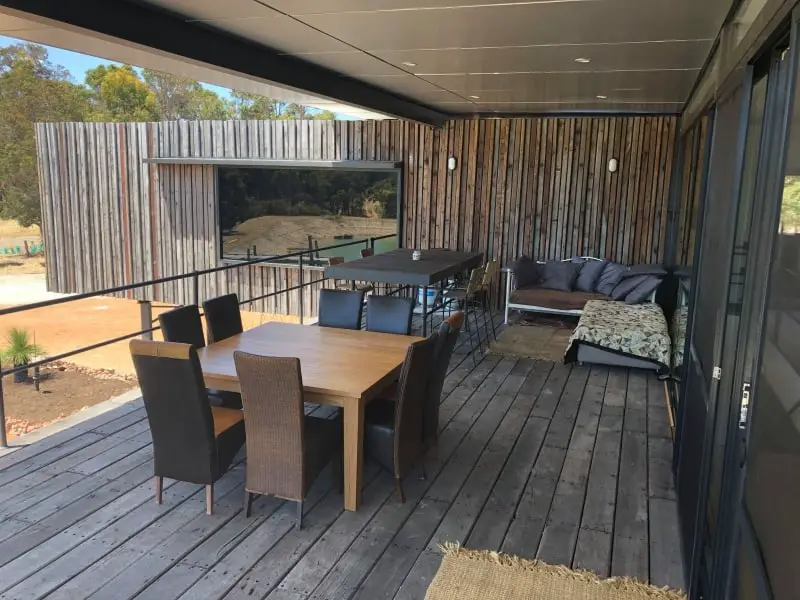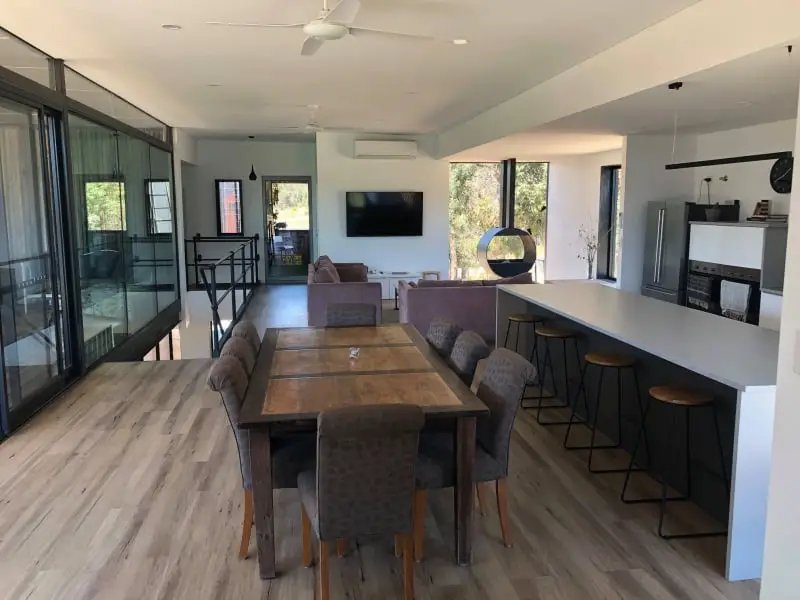 10. Graceville Container Home, Brisbane, Australia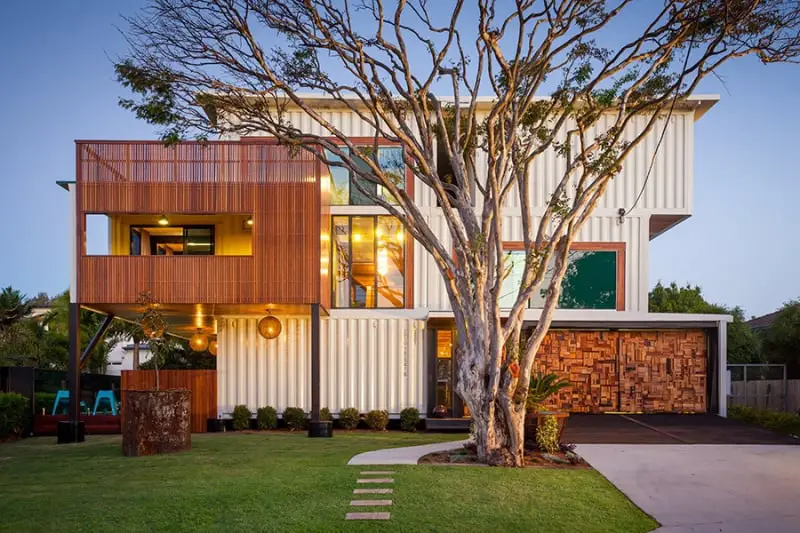 The largest shipping container home of its kind, this 3-storey family container home designed by Ziegler Build is constructed from 31 shipping containers and is in a quiet suburb of Brisbane – Graceville. The containers sit on a 706 square meter site and stand out from the surrounding traditional Queenslander properties.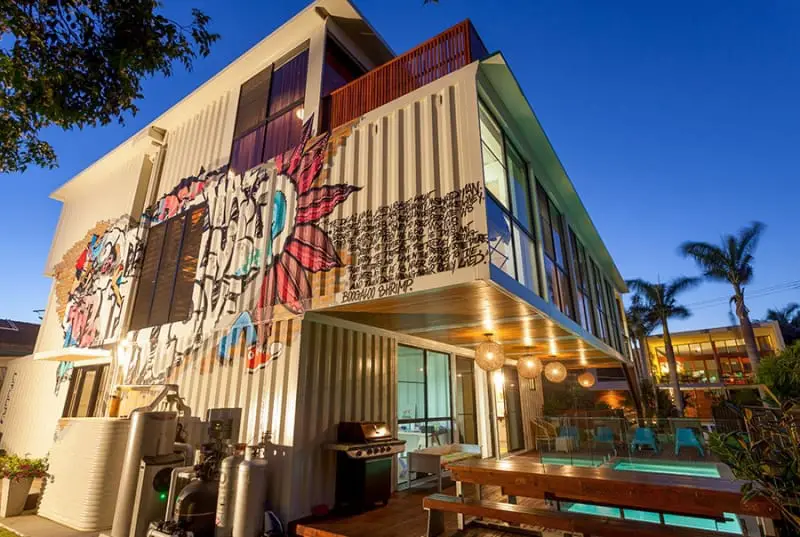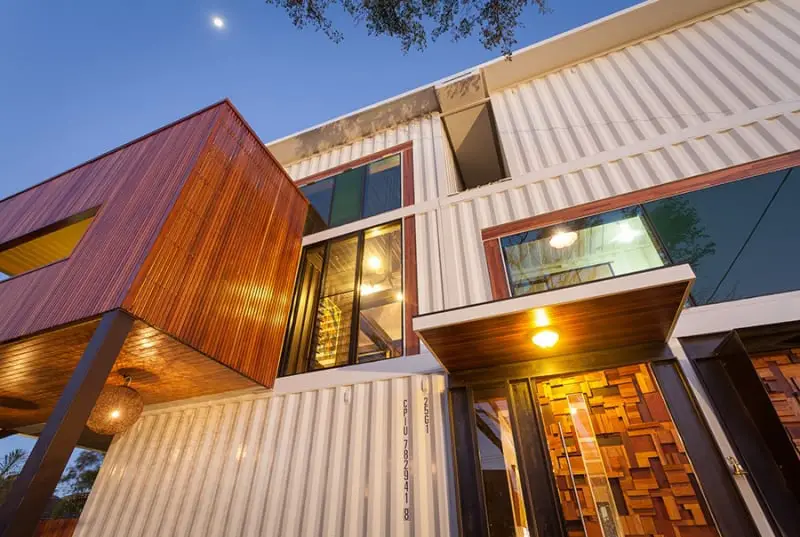 As the previous house on the site was destroyed in the 2011 Queensland floods, the new house is designed to be flood proof. The ground floor consists of 10 x shipping containers which create a double garage, gym, home office, pool room and art studio.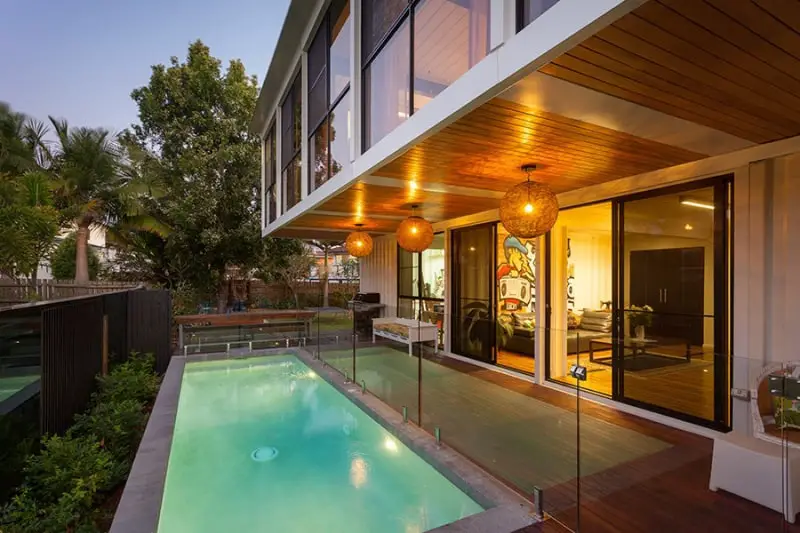 The second level contains 11 x containers and has a large open-plan living room/kitchen, bathroom, three bedrooms and a study.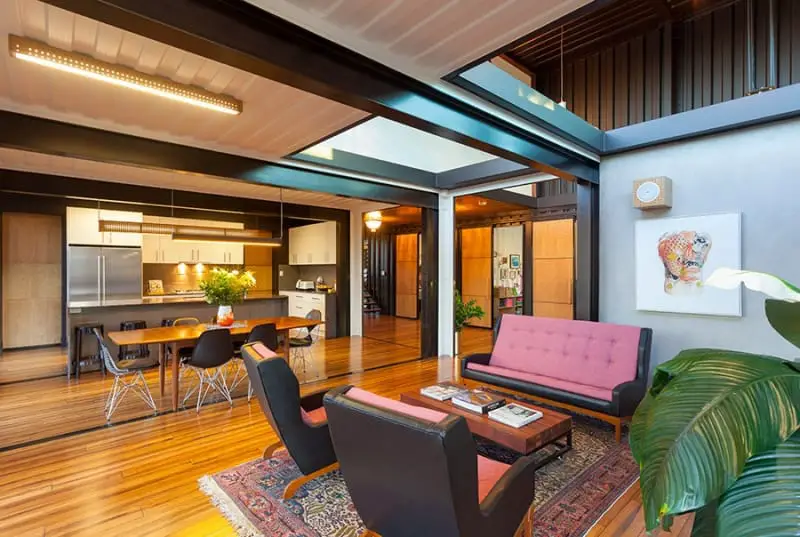 The top floor is made from 10 x containers which create a master bedroom with walk-in robe, ensuite and terrace. The interior and exterior have both been finished in an industrial chic way with some of the metal beams and columns left exposed along with the metal ceiling.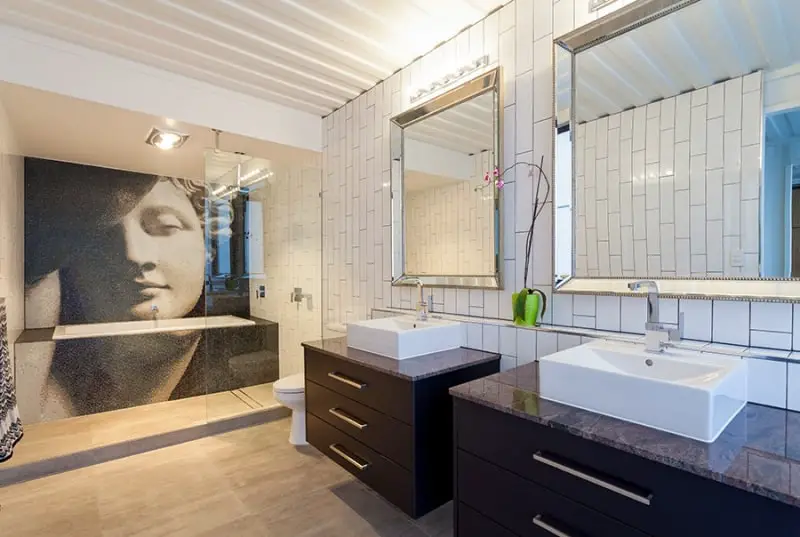 Note – This post has been updated in July 2022 to reflect the recent increase in container prices.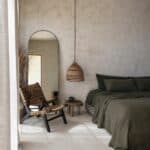 In interiors, 2023 brings earthy tones, textured walls, and classical decoration. Sustainability...
Read More