2022 is all about cosiness, comfortability, and longevity.  After the last few years, we need our home to be a safe space where we feel comfortable, peaceful, and somewhere we can enjoy spending a lot of time. In this post, we look at interior design trends we have seen in 2022 and where we think the world of interiors are heading. 
Moving away from fast fashion, investing in quality furniture and homewares which will last a lifetime. Vintage pieces, solid wood, Materials are also an important design choice with organic cotton, linen and marble top choices for longevity and timeless style. Rugs made from natural materials such as wool or jute are also a good choice over polyester (which is in fact a plastic).
This look has evolved from modern farmhouse/ industrial style and intertwined the investment pieces to create a look which is timeless and classical. This style has a quality look with no defined era as such, just beautiful pieces in a neutral setting. This style goes hand in hand with Investment Pieces; after all, if you are investing in timeless furniture and homewares, you want to be able to use them for a long time without them going out of style.
Natural finishes such as timber, stone and concrete are popular choice for home finishes such as kitchen cupboards, benchtops, vanities, and flooring. They help to create a sense of bringing nature into our homes and can add warmth and texture when combined. They are tactile materials that can enhance the enjoyment and feel of a space making you feel more comfortable. After the last few year, we all need a sanctuary to relax in and somewhere where we feel peaceful.
For walls and furnishings, we are seeing a nod to retro colours such as brown, ochre, cream, terracotta, tobacco, plus olive greens and eucalyptus.
In timber, whilst lighter timber such as oak has been a solid choice for a long time, we are starting to see darker timbers come through such as walnut.
If you want your home to feel like a big hug, then adding soft touches such as curves, velvet, bouclé fabric and pastel colours could create that feeling. We have seen these trends a lot this year with bouclé furniture being one of the top furniture trends of 2022. A curved sofa is also a big trend which looks to be here to stay a while. Whilst not for everyone, they can be a focal point in a room making a big style impact. They instantly bring a softness to a space and can help the flow of positive energy according to Feng Shui. 
What kind of fabric is bouclé?
Bouclé fabric is a heavy weight fabric made from a series of looped fibres. The name is French and means 'curled' or 'ringed'. It has a curly appearance similar to a poodle's fur. It is most commonly created from wool but can also be created from cotton, linen, and silk. 
Are curved sofas practical?
A curved sofa is definitely a statement piece and will add pizzazz to any room. The curves add a softness and are best suited to a space where they can stand freely and be admired like a piece of art. In the art of Feng Shui, curves are said to improve the flow of positive energy. A curved sofa can be good for entertaining as it creates a cosy space for conversations.
Whilst we have been used to seeing light wood everywhere for many years, people are starting to realise the potential in vintage and unique pieces of furniture. Those who love the mid-century modern look will not be afraid to use darker woods. Darker woods like walnut and Teak can bring character and warmth to a space but perhaps think twice about using wood as dark as magohany - at least for the time being.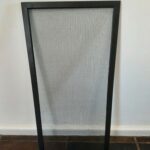 An easy DIY project, you can replace your fly screen in a...
Read More