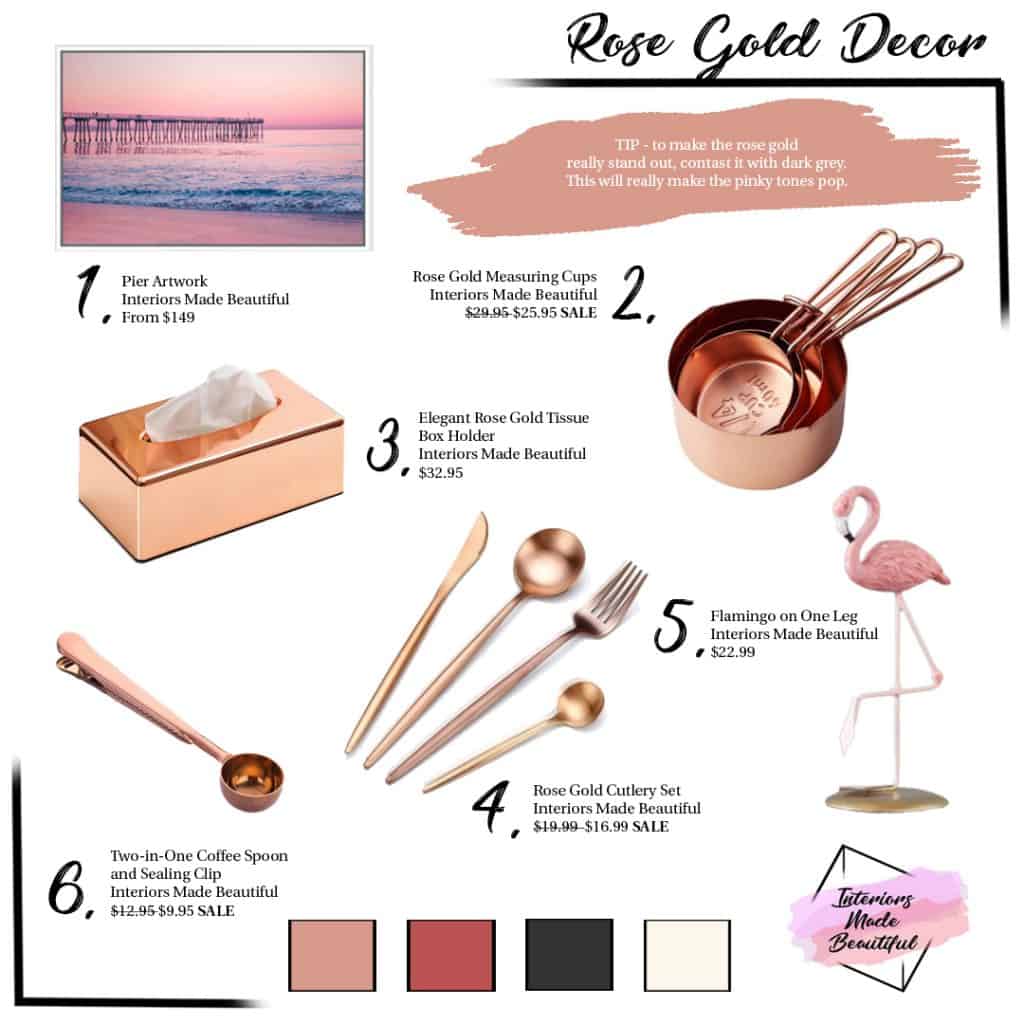 Shop the image – 1. Pier Artwork From $149 | 2. Rose Gold Measuring Cups $25.95 | 3. Elegant Rose Gold Tissue Box Holder $32.95 | 4. Rose Gold Cutlery Set $16.99 | 5. Flamingo Ornament $22.99 | 6. Two-in-one Coffee spoon and Sealing Clip $9.95
There is something so charming, feminine and luxurious about the rose gold decor trend. With a hint of pink, this has to be one of my favourite metals.
Pure gold has a slightly reddish, yellow colour to begin with. Different alloys can be added to the gold to create different colours. For example, silver can be added to create white gold. To create rose gold, copper is added to the gold during production which turns the gold pink. 
Rose gold is a pretty alternative to other metals such as gold or silver and there are some great rose gold products out there to accessorize your home.
If you would like to add rose gold accessories to your home decor scheme, I have included some of my favourite products above which can be found on this website – Interiors Made Beautiful. 
The great thing about rose gold, is that it compliments a wide variety of colours and can be added to a range of colour schemes. I find dark grey really makes the pinky tones stand out, however along with grey, it can also be used with blues, greens and neutral shades. 
TIP – to make the rose gold really stand out, contrast it with dark gray. This will really make the pinky tones pop.
The items I listed in the moodboard above would all fit in well in a kitchen or dining room with a rose gold theme. I am particularly in love with the coffee spoon and sealant clip. A practical yet stylish idea.
I am loving the rose gold metallic trend so much, I think I might decorate for Christmas with this colour scheme. I will keep you posted on that. As we have recently relocated, we have to buy all new decorations which is very exciting!