Never has interior design been more important. With many of us spending more time in our homes than ever before, it is important our home reflects our personality and feels safe and homely.
Many of the trends we expect to see this year stem from the fact that 2020 has been a strange and unsettling year for everyone. Interior trends are leaning towards creating a sanctuary where you can relax and escape from the world whilst also providing a statement workspace to look fabulous in your Zoom meetings. Adding personality to your space and making it feel nostalgic and intimate is important this year as we see more freedom to express yourself and create a safe haven in an un-nerving world. Mindfulness over how consumption affects the environment is also at the forefront of interior design decisions this year.
Today our homes need to be safe places where we can relax, work and have fun in. One way they can provide a sense of comfort is by feeling nostalgic. For example, feeling like you've stepped back in to your family home for your favourite dinner. A rustic cottage vibe with shabby chic furniture, floral wallpaper, delicate china and crocheted throws. Think 1990s Laura Ashley patterns mixed with your Gran's favourite teapot.
As some of us cannot physically getaway, travel-inspired trends are set to be popular during 2021. Inspired by overseas travel to African plains and tropical oceans, the travel trend reminds us of exotic holidays and features ocean hues, wicker and rattan furniture, soft lemons, tropical patterns and tropical plants such as palms to create a Hawaiin beachside or African safari feels. 
As more of us are spending our time working from home, a well-designed office space is an extremely important part of the home and worth the time and effort to get it right. Rather than shoving a desk in the corner of the kitchen, if possible, the home office should feature an ergonomically designed desk and chair (after all, you'll be spending a huge amount of time using it) to avoid aches and pains; a shelving system so you can easily access documents and stationery and a snug space such as a library or reading corner for you to relax during breaks. A focal point such as a feature wallpaper or statement artwork can also make sure your home looks amazing in those Zoom calls. 
Spending a lot of time in one place can make you go a bit stir crazy. One way to maximise your floor area so you don't feel too cramped is to extend your living spaces into your garden. Creating a garden room can be a great way to add a retreat within your home which can be invaluable during lock down scenarios. The desire for pools increased during 2020 [source: ABC News] which shows people are spending more time in their gardens and willing to spend more to make their garden an exciting place to be. 
People are becoming more mindful about consumption and sustainability therefore it is no surprise eco-conscious design is becoming increasingly important to the interior design industry. People want to know the place of manufacture, materials used, and longevity of products which can be important factors in determining the sustainable nature of a product. People are opting for natural organic materials over synthetic (such as low-impact linen, organic cotton, recycled polyester, jute, etc) recycled textiles, bioplastics, and reused materials. Recycling or upcycling furniture is one way to reduce consumption and stop items going to landfill which could be why we are seeing the shabby chic design trend making a come-back this year. 
With people spending more and more time at home, your interior design should reflect your personality. That is why Maximalism is set to be a strong trend during 2021. From statement headboards and canopies, to ornaments collected during travels and your favourite patterned wallpaper. Anything goes if you love it. Creating vignettes of your favourite items which work well together can help to create a feeling of purposeful design rather than a random collection of items. If you want to change up your wallpaper, peel & stick (self-adhesive) wallpaper is having a moment and makes wallpapering way easier. This year, hand-crafted items such as hand-thrown, patterned ceramic tiles for kitchens and bathrooms are set to be popular which add a personal touch to rooms which had become sterile during previous trends.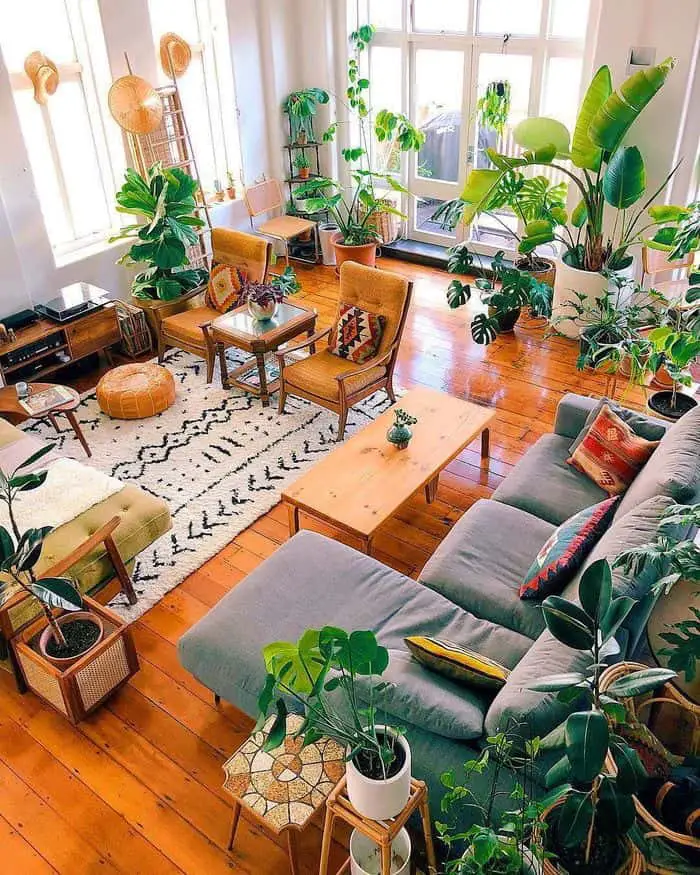 Bringing the outside in with house plants, natural textures and earthy colours is a trend set to be popular this year. Keeping house plants has been a big trend which isn't going away any time soon. Plants can help people enduring lock-down, especially those that live alone, as they have something to care for and watch grow. Connecting to nature seems to be an important aspect of people's lives now and you can bring this to your home with an earthy colour palette; colours such as rusts, terracotta, stone, warm greens, deep reds and slubby browns all hark back to nature.