Are you expecting a baby or know someone who is and confused by all the 'must-haves' needed to set up a nursery? This post is a list of my top items needed for a nursery I wish I had had 3 babies ago. 
DISCLOSURE: We may earn commission if you find something you like and buy it through these links at no extra cost to you.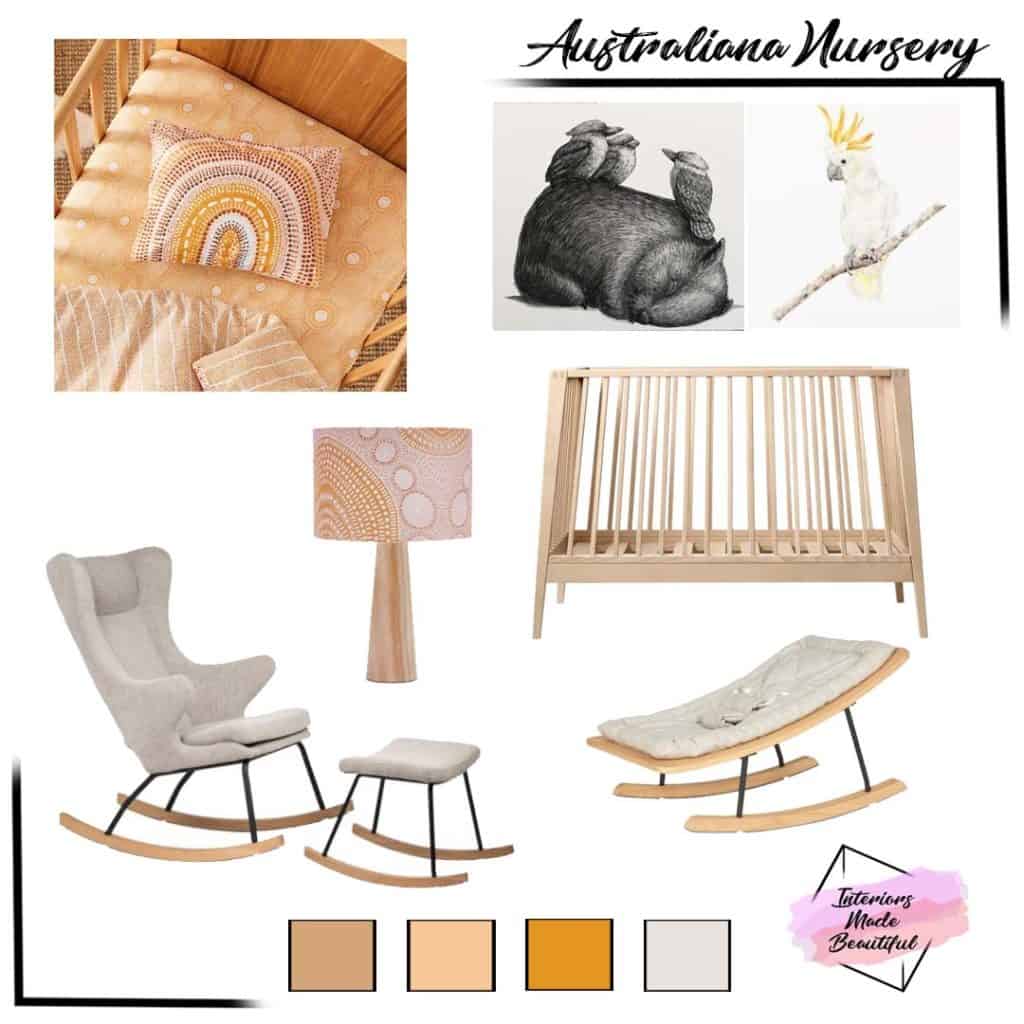 One of the most important things for a nursery is somewhere for baby to sleep. We have been lucky enough to have had space to fit a cot in our master bedroom so the babies can sleep in our room for around the first year.
If you are setting up a nursery in your bedroom, you can either use a co-sleeper like me such as the Aria 2-in-1 bassinet, a crib, or cot. My kids did not take to a bassinet or crib well (I think they like to stretch out) so I went with a bedside co-sleeper and then a cot.
A comfortable cot like this Leander Linea Cot designed by Danish-born Stig Leander available from Zanui is great for a nursery. It has good ventilation as it has open ends and sides to keep your baby safe. It is made from quality European beech wood which has been sustainably forested and has been solidly constructed with old-style finger joints for added strength and durability. They have used non-toxic glues and varnishes to protect your little one.
It's stylish design will look good within a range of different interior styles. As an added bonus, when your baby outgrows the cot, it can be transformed into a stylish kids' sofa by removing one of the sides and adding some cushions like these from Leander. It also comes with a 3 year manufacturer's warranty for peace of mind. 
Nice and soft bedding is just what your baby needs to help them get a good nights sleep. it can be hard to decide on what bedding is required for your baby as it can depend on the season, outside temperature, room temperature and if your baby likes to be swaddled up or free as a bird. 
I would suggest at least one quilt and pillow once your baby is old enough (around 18 months usually), at least two fitted sheets (as you never know when you might need a quick bed change), two flat sheets for warmer nights, and a warm blanket for extra warmth on those colder nights.
How beautiful is this quilt cover and sheet set by Brad Turner available at Adairs?! The set includes 1 quilt cover and 1 cot pillowcase and is made from soft organic cotton. An added bonus is there is a matching adult quilt cover set so you can match your baby <3.
Nursing Chair & footstool
A great nursing chair and footstool can be a godsend on those nights when you are up multiple times to feed or settle your baby. Ones that sit upright are good for feeding positions and ones that rock are great for relaxation and settling baby. A footstool is always a great addition for resting your tired legs. 
This European-designed nursing chair by Quax provides the best of both worlds: comfort and style. It also has the added bonus of having easy-to-clean fabric (trust me, you will need it). The chair and matching footstool are both available at Zanui. 
The nursing chair runners are made from solid birch wood and the legs are made from powder-coated steel for stability. It also comes with a 2 year manufacturer's warranty for peace of mind. 
The chair comes in four different colours to suit your colour scheme. There is black, sand grey, saffron and clay. I like this chair because it would look fabulous in a nursery but would look equally good in a living room or study once baby has grown. 
A baby bouncer can be a great way to soothe your baby when you need to be hands-free or just need a rest. The rocking motion helps to calm them and is definitely a must-have item. 
This Quax rocking baby bouncer matches the nursing chair above and compliments each other well. Mimicking a natural rocking motion, this rocking baby bouncer is perfect for tired or restless babies to help them relax.
The rocker has removable, washable covers and comes in all the shades to match the Quax rocking chair and footstool. It has solid birch wood runners and powder-coated metal legs for stability so your baby can rock safely and smoothly. 
A dresser to store all of baby's vests and sleepsuits is a must. For the first few months, they will not really require hanging space so until they get bigger, it is more practical to have a dresser.
A dresser that can also double as a changing table is a good idea such as this one from Leander which matches the cot. The changing unit for the top can be removed when no longer required making the dresser a long-lasting investment.  
The Linea dresser by Leander is constructed from sustainably sourced European beech wood for strength and durability. The drawers are self-closing with soft grey felt handles. Old-finger style joints with non-toxic glues and varnishes make this piece a solid and safe piece that will last for your little one as they grow.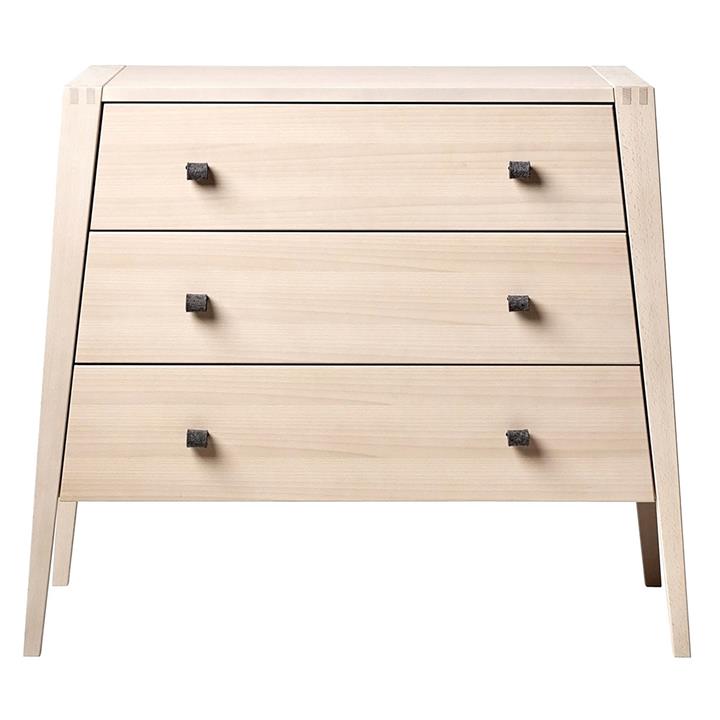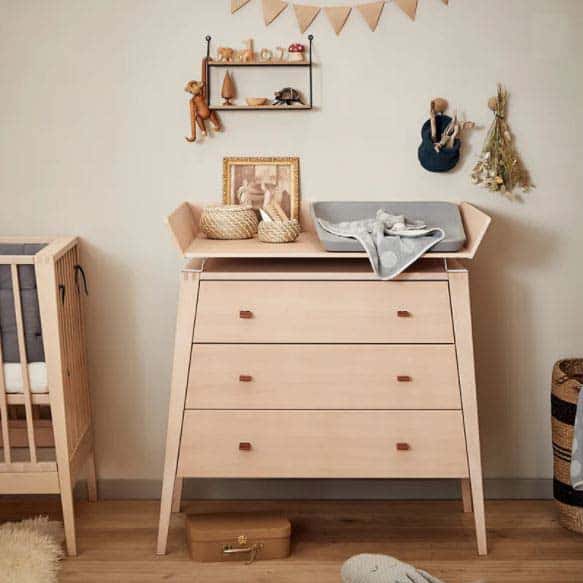 Adding artwork is like adding jewellery to your outfit, like the crowning glory of the room. Interesting art that awakens the imagination is perfect for a nursery. Cute characters, whimsical creatures and patterns are a good choice. Wall stickers are a great temporary way to decorate which can easily be changed when baby grows. 
These wall decals featuring Australian animals are so cute. They are sure to make your room welcoming and cosy for your baby whilst adding a bit of fun. Perfect for an Australiana themed nursery.
The Wombat and 3 Kookas wall decal has a hand-drawn, picture-book-style and is made in Melbourne in collaboration with illustrator Renee Tremi. It is printed using water-based inks with zero hazardous air pollutants (HAPs) and is Nordic 'ecolabel' certified. The removable sticker has a matte finish.
Brucey the Cockatoo is made in Australia and designed in collaboration with Sydney-based artist Carmen Hui. The wall decal is printed with non-toxic, eco-friendly, water-based inks for the safety of your little one. 
The wall decals can easily be fixed to a smooth, flat surface such as a wall, furniture or mirror.
A soft place for your baby to rest, play or practice tummy time, a play mat is another item on the must-have list. This one from Adairs ties in the Australiana theme featuring Brad Turner's artwork. 
This quilted playmat is reversible with Brad Turner's Nyanggalgir Guwang rainbow artwork on the front and his Bindim (Driftwood in a River) design in a repeat pattern on the reverse. It is machine washable and can be folded up to take with you so aby has a comfy spot to play or rest when out and about. 
For those night-time feeds or to leave on if your little one needs some reassurance in the dark, a lamp is a must-have item. This Brad Turner Jalngay Ngahriyan Table Light from Adairs is the perfect pair to the cot bedding and australiana theme. 
The lamp features Brad Turner's artwork on a linen shade reflecting Brad's Australian heritage on a timber base.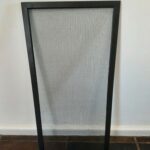 An easy DIY project, you can replace your fly screen in a...
Read More