Renovating your home yourself can seem like a great idea at the start. Buzzing with enthusiasm, you go to the hardware store to obtain all tools and materials and then you begin. Enthusiasm quickly fades to panic as you realise Youtube does not have ALL the answers after all.
Being a DIY show fanatic, I totally get it. They make it look so easy. And with the cost of labour almost always being as much as the materials, it makes sense to investigate what work you can undertake yourself to save some money. There is also a sense of satisfaction when you manage to complete a project which you have created with your own bare hands.
So, what is a good thing to DIY and how difficult is it? I have created a list of the most common areas people want to renovate in their homes which have been rated on a scale from 1 to 5 according to their difficulty (1 being easy – go for it!, 5 very difficult – seek professional help). 
The areas have also been rated in terms of cost with $ being cheap and cheerful, $$ – moderately expensive, $$$ being big bucks. Of course, this is only based on the average cost it takes to renovate the area. You can spend more or less than this.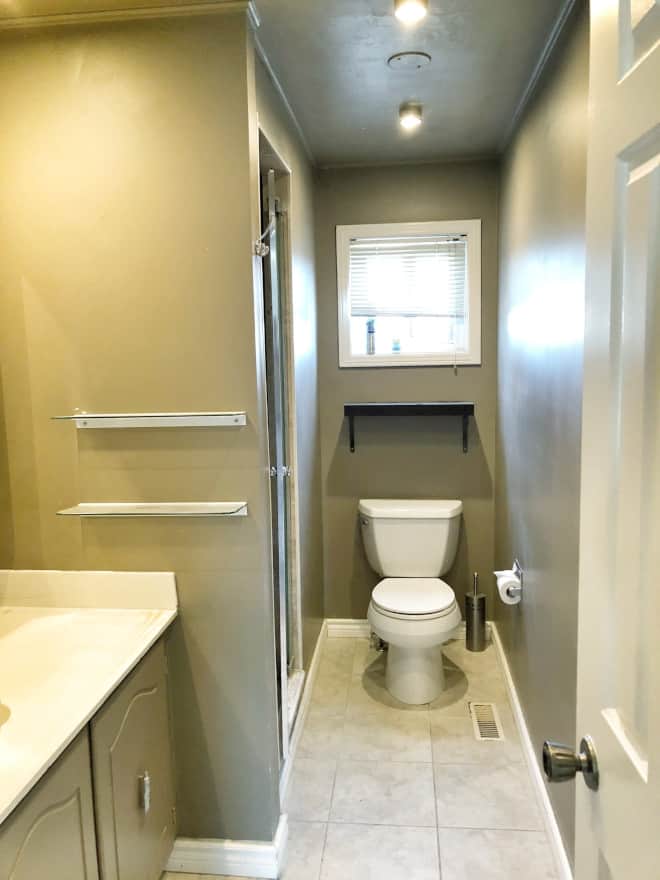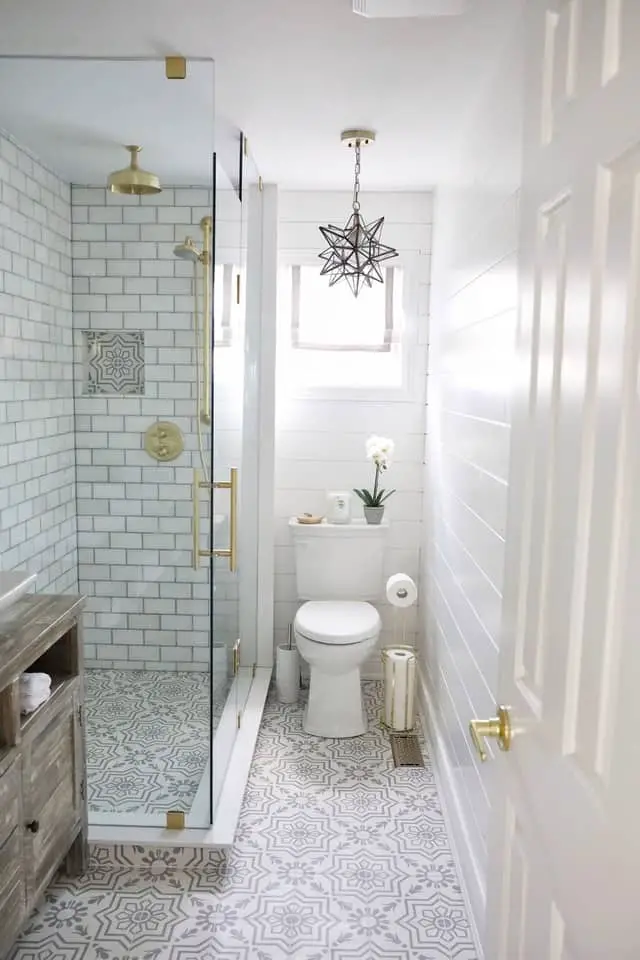 Average cost of bathroom renovation – $$$
Difficultly rating – 5/5
Average cost of bathroom renovation in Australia – between $10,000 to $30,000 (depends on size of room, labour costs and material choices)
A particularly difficult room to remodel yourself due to the requirement of plumbing, electrical and waterproofing. I would recommend you enlist an experienced and licensed tradie for these areas of the project but there are some aspects you can do yourself. 
Firstly though, it is important to understand there is legislation surrounding bathrooms in Australia. The Building Code of Australia and the Australia Standard (AS 3740-2010) requires specific waterproofing standards for residential bathrooms. The waterproofing requirements have been summarised below:
waterproofing the full shower floor
walls within the shower need to be waterproofed up to at least 1800mm high
the entire bathroom floor needs to be waterproofed if it's timber flooring, plywood or particleboard, or if it is above the ground floor of the house
What can you do yourself?
Areas you can do yourself include acquiring materials, painting and installing some fixtures such as taps, mirrors and cabinets. You could even try tiling but make sure you take your time as there is nothing worse than looking at wonky tiles everyday. Videos such as this 'Tiling tips' can help you. If you are leaving the tiles, you can paint them, re-grout and re-seal them yourself.
Tip: If you are repainting walls or ceilings in your bathroom, it is a good idea to use paint which is moisture resistant.
How to keep bathroom reno costs down?
If you have a very limited budget, you can make small improvements such as only updating the fittings such as towel rails and mirrors which can have a big impact for a small cost. 
Painting over existing tiles and vanity is an option for those on a tight budget. 
For a slightly bigger budget, you could replace the shower screen and vanity including sink and taps. This can make a huge impact for relatively small cost. 
If you are set on renovation rather than small improvements, one of the most cost effective things you can do is to leave the fixtures in the same position. For example, leaving the bath, shower and toilet in the same place means you can save money when hiring a plumber as they don't have to mess around with new pipes.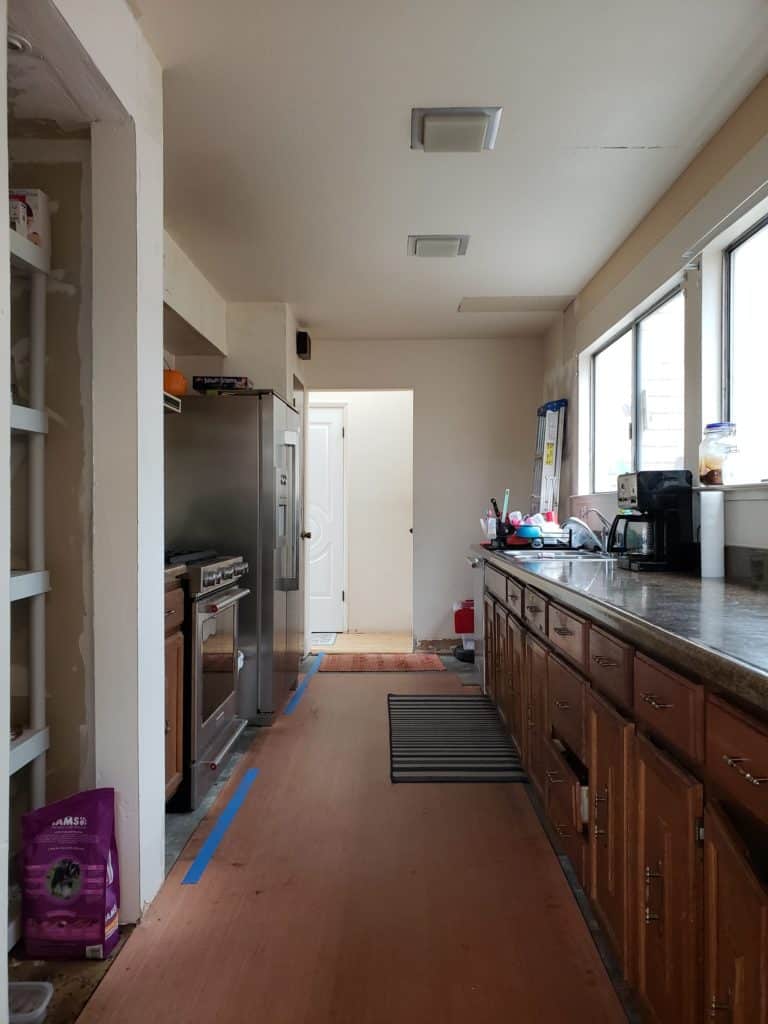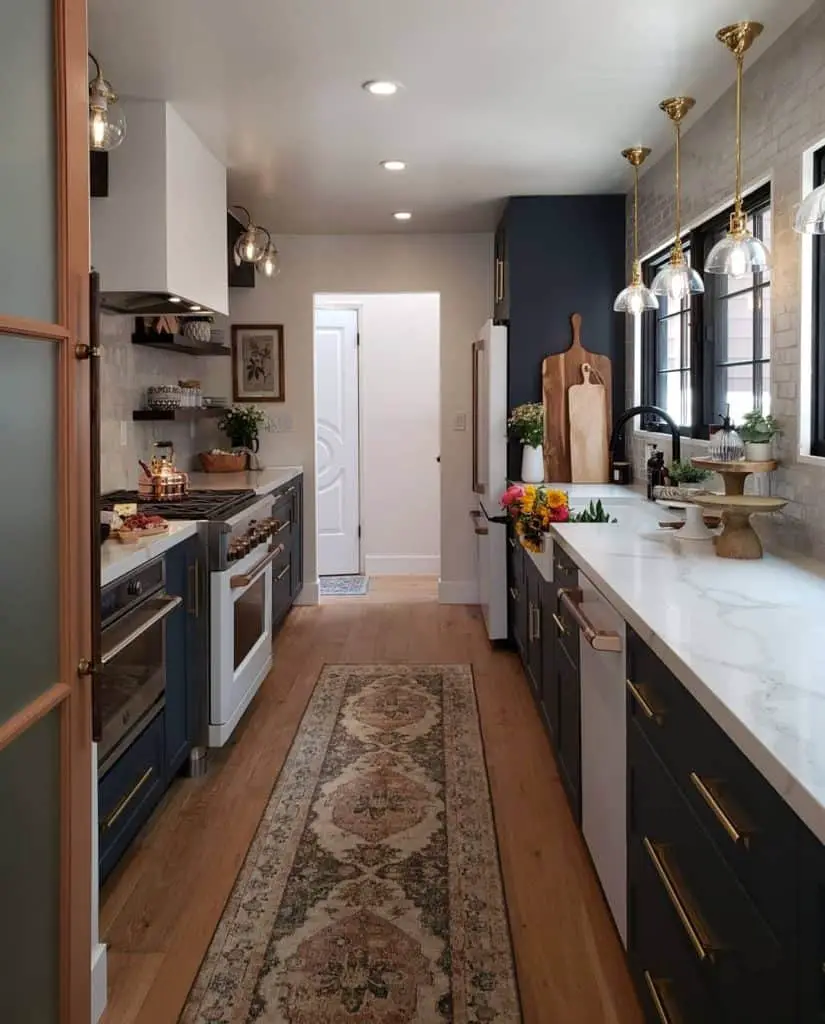 Average cost of kitchen renovation – $$$
Difficulty rating 5/5
Average cost of kitchen renovation in Australia – between $20,000 to $40,000 (depends on size of room, labour costs and material choices)
Another difficult and expensive space to remodel due to requiring qualified professionals along the way and a wide range of tools but as long as you use a qualified electrician and plumber to do the electrics and plumbing, you can erect and install the kitchen yourself. 
To keep costs down, you can hire tools rather than buy from places such as Bunnings and Kennards. There are also places where you can borrow tools from your local community. Check out Brisbane Tool Library, Sydney Inner West Tool Library, Brisbane's Share Shed, Blue Mountains Toolo.
What can you do yourself?
Once you have your tools sorted, one way to keep costs down on a kitchen reno is to install the kitchen cabinets yourself. Companies like Ikea, Bunnings (Kaboodle) and U-Install-it offer flat pack kitchen options which are relatively easy to build yourself. 
I would also suggest you could give tiling a go if you are only tiling a small backsplash section, however I would suggest you do your research first and ensure you have all the right tools before you begin. 
Kitchens and laundries do not need waterproofing like bathrooms, but waterproofing may be applied behind splashbacks and under floors for protection. Sealant should always be applied around the benchtop to prevent water leaking between the walls and cupboards.
How to keep kitchen reno costs down?
One of the biggest things you can do to keep costs down is assembling the cabinets yourself. A few companies make cabinets that are easy to DIY and require only your normal DIY tools. 
Keeping appliances and fixtures in the same positions is another way to reduce costs. For example, keeping the sink, oven and extractor fan in the same positions can reduce the cost of an electrician and plumber. 
Another way to keep costs down is to choose a laminate benchtop rather than a stone one, however sometimes it can be worth the investment if you are thinking of the resale value of your home. Plus, stone can be more durable and long-lasting.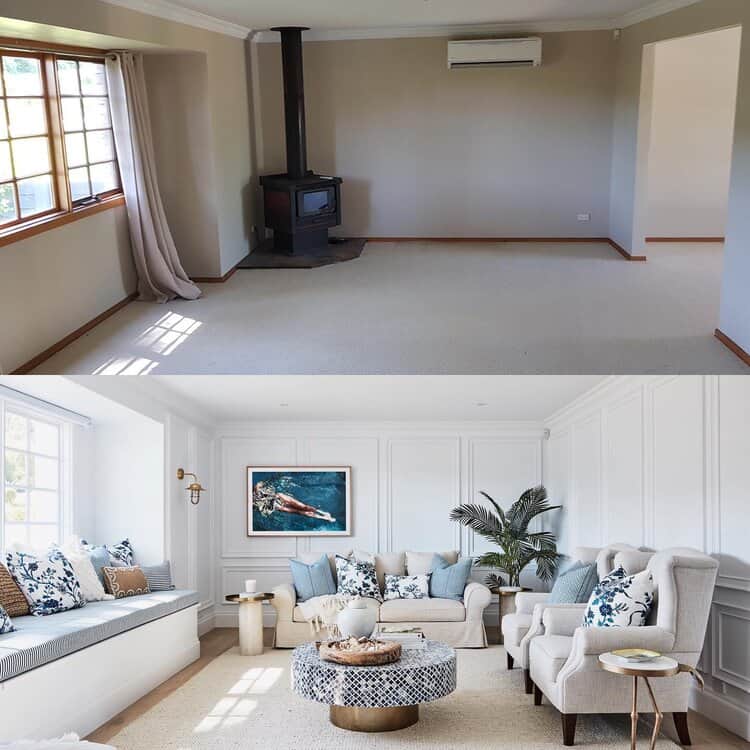 Average cost of living room renovation – $$
Difficulty rating 1/5
Average cost of living room renovation in Australia – between $5000 to $15,000 (depends on size of room, labour costs and material choices)
An easy space to remodel and freshen up. A lick of paint, a new rug, add new ornaments and artwork and you can transform your living room from dull and boring, to something rather special.
Depending on your budget, here are some ideas you can consider to renovate your living room and create a cozy space: create a focal point such as a fireplace or built-in cabinetry; add a feature wall such as VJ paneling, or paint your walls (or wall) a dark or vibrant paint colour, or use a wallpaper to create interest and personality. 
If you are looking at something a bit more drastic such as taking walls down or replacing windows, you should seek advice from a qualified engineer or builder. If you take a load-bearing wall down, the whole house could collapse so it is very important to hire a structural engineer for advise. It is also a requirement to get council approval if you are making structural changes to your property.
With windows, you want to ensure they are replaced correctly and sealed appropriately or you could risk moisture affecting the structure of your home. Accurately measuring replacement windows is a tricky thing which you do not want to get wrong so I would suggest getting the professionals in to help with this. 
If you are putting in a new window where there was not one previously, a lintel will need to be put in above the window to support the walls and roof. This may require a structural engineer to calculate the loading. There could also be local council guidelines for your area, so always best to check with them first, especially if your new living room window faces the street. 
What can you do yourself?
To transform your living room from drab and boring to wow, painting the walls can have a big impact. There are apps out there now where you can virtually visualize a new paint colour in your living room before you commit. 
Wallpapering does take skill but can be done yourself. Especially the 'peel-and-stick' wallpapers which are having a moment right now. 
Often a much-overlooked area, changing daggy curtains to a more stylish window dressing can make a huge impact. Plantation shutters or sheers with a blind are on trend and can completely transform a room. There are companies which supply DIY plantation shutters so you can fit them yourself, just make sure you measure twice. 
How to keep living room reno costs down?​
Let's be honest, a sofa can be one of the most expensive household items you purchase. Choosing a sofa which won't date and is in a neutral colour can last a good few years. No one wants to be replacing a sofa every year. Also, looking out for good quality second-hand sofas can save you lots of money. Sometimes people move house and their current sofa doesn't fit in their new space so you can find good quality, used sofas out there. 
Painting your own walls and trim can save you a lot of money. From experience, to get the best result, always take your time with the prep work. Use painter's tape or masking tape to cover trim, architraves, and skirting boards whilst you paint the walls ensures you get crisp edges and makes it easier to cut in. 
Tip – remove masking tape whilst the paint is still wet to avoid it pulling the paint off with it. Another tip is to paint the trim before the walls as it is easier to wipe the paint off the trim but not so easy to wipe gloss/satin off of the wall paint.