When Nicole Herrick (@nicoleherrickdiy) decided to upcycle this vintage sideboard she got for free (yes,free!) on Facebook Marketplace, I wonder if she thought the end result would be so fabulous. She chose a bone inlay style makeover and painted the wood using a stencil she created using her new Cricut maker. 
She had her eye on a similar bone inlay piece, but the price was around $4000AUD! As a cheaper alternative, she decided to find an old sideboard in need of some TLC, and upcycle it to achieve a similar look. I think you will agree, the result is beautiful.
Nicole started by removing the handles and filled in the old handle holes, then sanded and primed the piece ready for painting. She painted a base coat of a soft beige ready for the stenciling.
Nicole created the stencils specifically for this piece of furniture using a Cricut machine. This allowed her to tailor the stencil to the measurements of the sideboard. She then painted over the stencil with two coats of white matte acrylic paint to create the patterned design and a coat of iridescent varnish mixed with Macro pearl pigment to give it a nice sheen. After peeling off the stencil, she then added a final matte protective coat overall. 
To complete the piece, Nicole added a new base from left-over wood she had and new semi-circle gold handles. You can follow more of Nicole's projects on her Youtube channel Nicole Herrick DIY.
You might be interested in...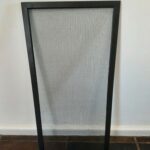 An easy DIY project, you can replace your fly screen in a...
Read More