I transformed our dated late 1970s kitchen on a small budget of around $300. Eventually we would like to take the wall down between the living room and kitchen/diner to create an open plan space but for now, we wanted a kitchen we could live with for a couple of years whilst we saved up for a more costly renovation.
The layout of the current kitchen was OK for now and the cabinets were also in pretty decent shape. I decided that the best way to make an impact was to paint the cupboards and add new hardware. I created a quick moodboard for inspiration which can be seen below.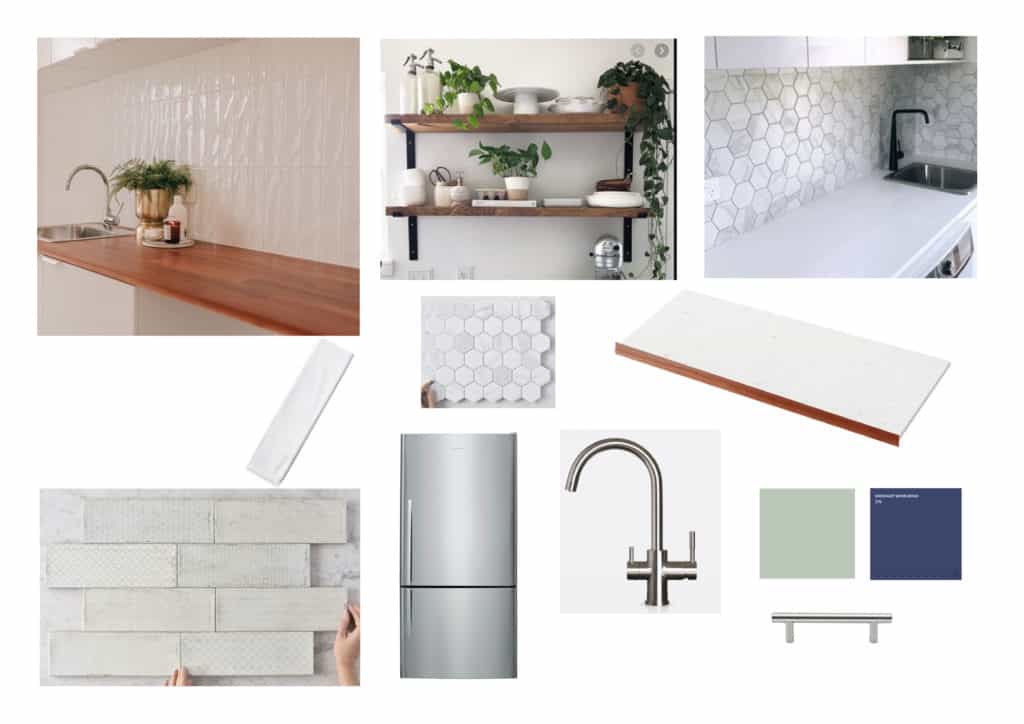 After a family debate, we set our hearts on a bold blue colour for the base cabinets as it was a toss up between sage green or blue. The other cabinets would be white to brighten the space and reflect the north-facing light. We decided blue and white would complement our existing stainless steel appliances.
We chose modern looking stainless steel hardware which we drilled and screwed into the existing cupboard doors. To open the original cabinets, you had to grip the edge as there were no handles. This would leave fingerprints all over the cabinet doors (!) so having handles is definitely an improvement. It has also modernised the kitchen for a small cost. 
To keep costs down, I decided to spray paint the existing brown extractor hood with a stainless steel spray paint. It would have been lovely to replace it with new but one thing leads to another and if we took that down, we would have had to alter the cabinets and tiles and ceiling and then everything would snowball from there.
We are still deciding on what we are going to do with the tiles. We are considering tile stickers or painting them for now. We were going to replace them but got advised this may take the plasterboard with it so we decided against that for now. 
One thing that we definitely need to replace is the taps as these are not in good shape (if you over-turn, they often ping off and they leak).  We are going to chose a stainless steel tap to match the hardware and appliances. This is yet to be installed as we want to include a filter tap too.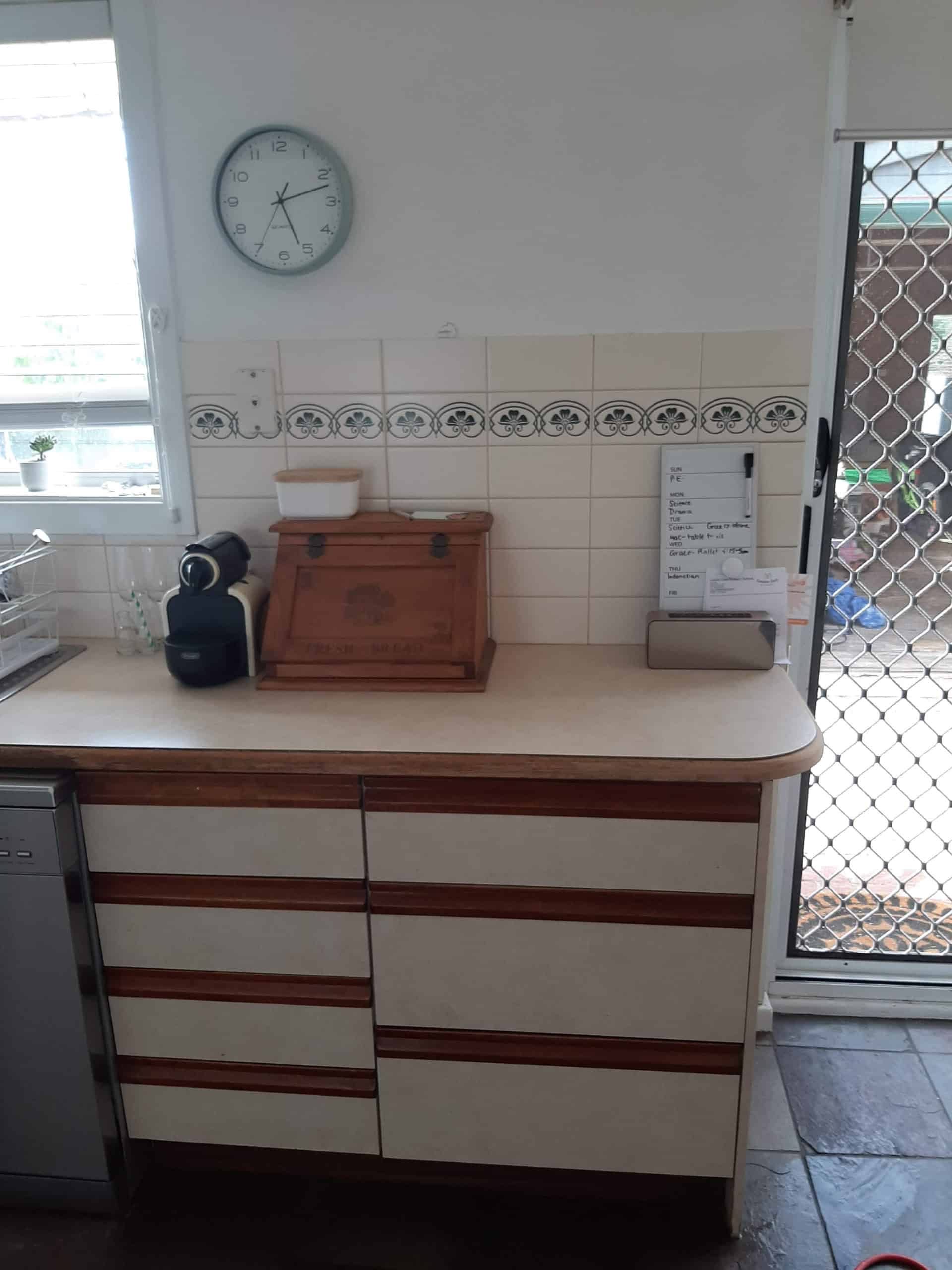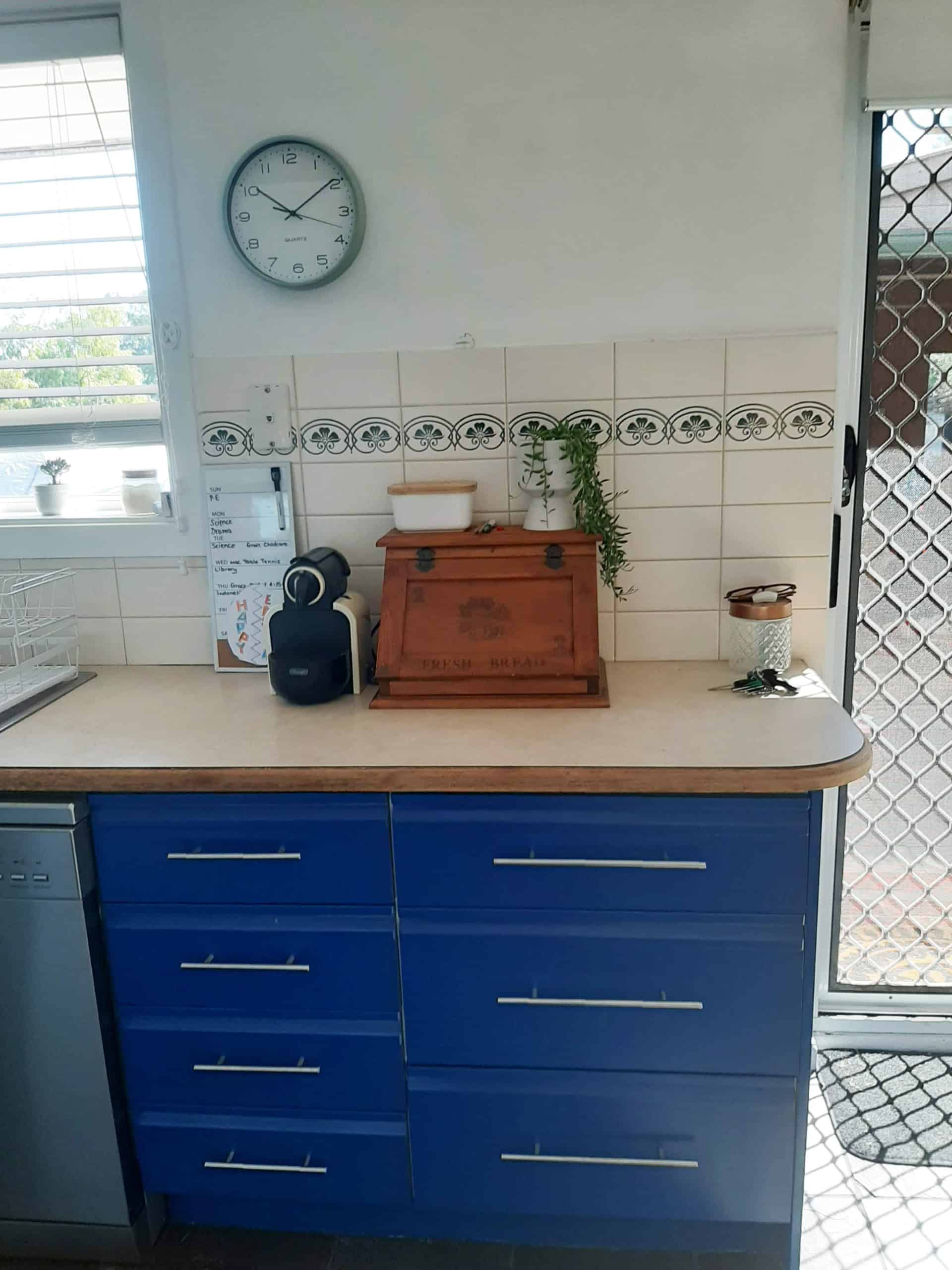 For the benchtop, we actually quite like the wooden curved edge of the existing one, however, the speckled brown top and dated stain was not very modern or stylish. I sanded the wooden edge to remove the dated orange-toned stain and re-varnished the bare wood with a clear coat for protection. We are considering painting the top of the benchtop.
We were left with the slate flooring as this covers most of our living spaces in the house and would be a huge, costly job to remove. Some people love the slate, others hate it but for now I don't think it looks too bad with the updated kitchen. It's not something I would necessarily choose as I would love wooden floors but we are stuck with it for now. At least it is hard-wearing. It would have cost a fortunate to install back in the 1970s.
Still some updates to work on but overall the budget kitchen reno has made a huge impact on our enjoyment of the space. I will update this article once more progress has happened.