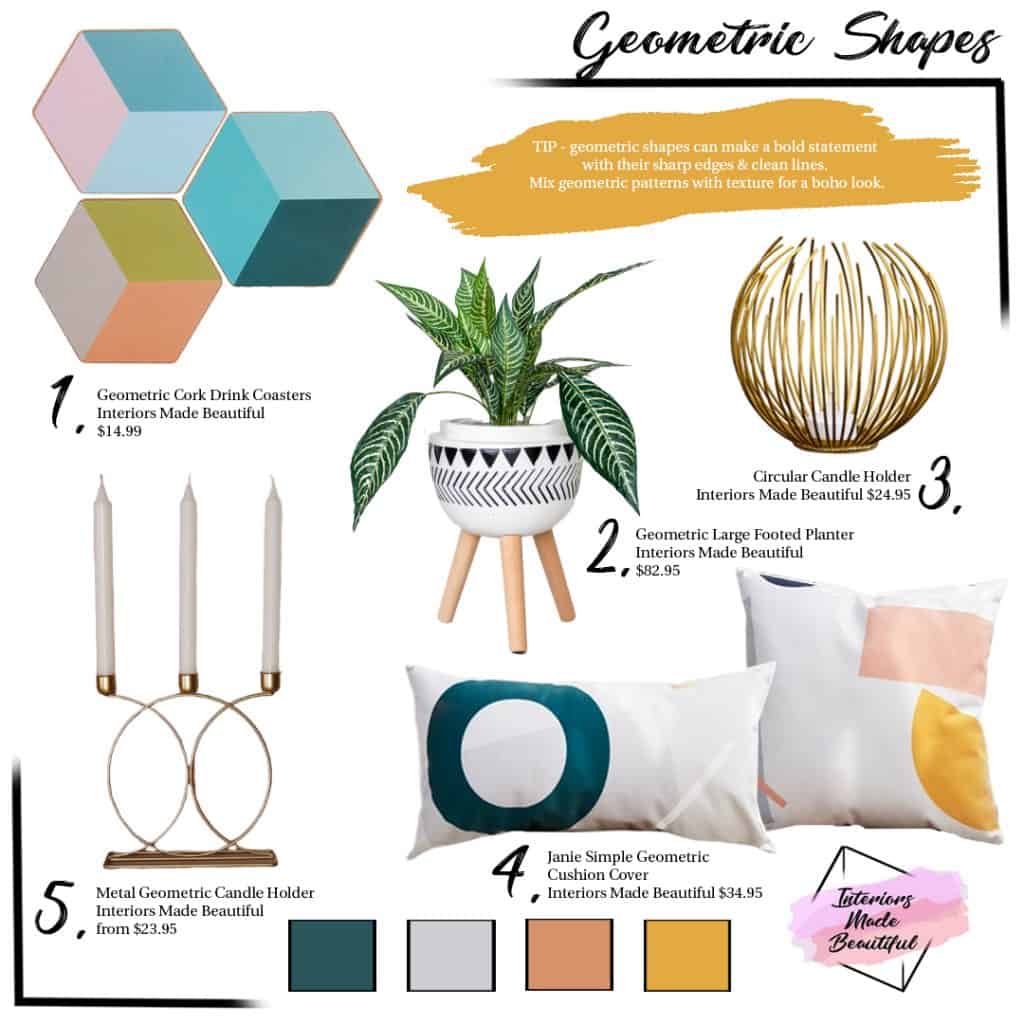 Geometric decor is a bold way to add interest and personality to your home decorating. From geometric fabric prints, candle holders in geometric shapes to geometric patterned floor rugs and geometric plant pots, there is something out there for everyone.
The bold, clean lines and simple silhouettes created with the geometric shapes means this trend fits in nicely with modern home designs. However, we are seeing geometric shapes more frequently mixed with texture and different patterns to create a bohemian décor scheme.
The great thing about the geometric decor trend is that a few staple pieces can make a substantial difference to your interior design. Keep things minimalist and accentuate areas. For example, a bold, geometric table centrepiece will accentuate your dining area and keep things on trend without looking too 'over-done'. A large, geometric mirror or wall print can make a feature of your living room without having to try too hard (or spend too much!).
The timeless geometric décor trend harks back to modernism in the early to mid-twentieth century. The experimentation of simple forms and geometric shapes created some beautiful, bold artwork which are still inspiring modern design today.
As an Architecture graduate, I would have to say this is one of my favourite home décor trends. It makes me think of great architects such as Le Corbusier and Frank Lloyd Wright and brings back memories of visiting the Guggenheim Museum in New York. The strong lines and prominent shapes of the buildings and interiors are visually pleasing and still look modern many years later. This reinforces that the geometric décor trend really is timeless!
The geometric décor trend is extremely versatile and can be as bold or subtle as you like. You can experiment with colour to make a statement or keep the scheme neutral and play with metals instead. I am loving the geometric metal décor (as you can see I added two metal decorative pieces to my moodboard) and I think this brings a modern twist to the geometric trend. Copper and gold pieces look beautiful in the striking geometric shapes whilst adding a touch of luxury.
Whatever way you decide to experiment with the timeless geometric home décor trend, the variety of pleasing aesthetic schemes you can create means you won't be disappointed.